Digital counters are needed everywhere in this digital world, and 7 segment display is one the best component to display the numbers. Counters are needed in object/products counters, digital stopwatches, calculators, timers etc. To use the 7 segment with ease, there is a 7 segment driver IC which is IC CD4026, so we are building 7 segment counter circuit using 4026 IC.
IC CD4026
4026 IC  is a 4000 series IC. It is a CMOS seven-segment counter IC and can be operated at very low power. It is a decade counter, counts in decimal digits (0-9). It is used to display numbers on seven segment displays and it increment the number by one, when a clock pulse is applied to its PIN 1. Means more the clock pulse rate, faster the numbers change in 7 segment Display. Below is the pin diagram and pin description of 4026 IC: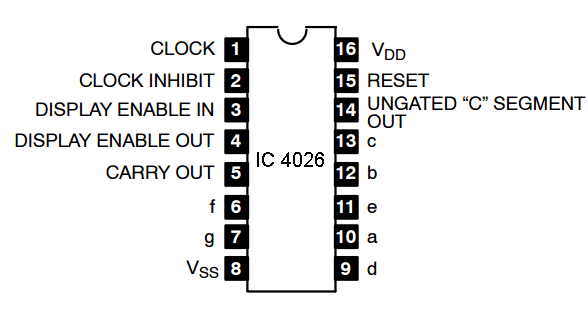 | | | |
| --- | --- | --- |
| Pin number | Name | Description |
| 1 | CLK | Clock in, Increment the counter with each Positive clock pulse (LOW to HIGH). |
| 2 | CI | Clock inhibit - when low, clock pulses increment the seven-segment. Freezes the counter when HIGH, active HIGH. |
| 3 | DE | Display enable- chip will be ON when this pin is HIGH, and OFF if it is LOW. |
| 4 | DEO | Display enable out - for chaining 4026s |
| 5 | CO |  The CARRY-OUT (Cout) signal completes one cycle every ten CLOCK INPUT cycles and is used to clock the succeeding decade directly in a multi-decade counting chain |
| 6 | F | Connected to 'f' of the 7 segment. |
| 7 | G | Connected to 'g' of the 7 segment. |
| 8 | VSS | Ground PIN |
| 9 | D | Connected to 'd' of the 7 segment. |
| 10 | A | Connected to 'a' of the 7 segment. |
| 11 | E | Connected to 'e' of the 7 segment. |
| 12 | B | Connected to 'b' of the 7 segment. |
| 13 | C | Connected to 'c' of the 7 segment. |
| 14 | UCS | Ungated C-segment - an output for the seven-segment's C input which is not affected by the DE input. This output is high unless the count is 2, when it goes low. |
| 15 | RST | Reset PIN, active HIGH. Reset the counter to 0 when HIGH. |
| 16 | VDD | Power supply PIN |
Above table explains the function of each pin of IC CD4016 clearly.
Seven Segment Display
It consists 8 LEDs, each LED used to illuminate one segment/line of the unit and the 8thLED used to illuminate DOT in 7 segment display. We can refer each line/segment "a,b,c,d,e,f,g" and for dot character we will use "h". There are 10 pins, in which 8 pins are used to refer a,b,c,d,e,f,g and h/dp, the two middle pins are common anode/cathode of all he LEDs.
IC 4026 is used to drive common cathode 7 segment display. In common cathode 7 segment display cathodes of all the LEDs are connected together, and all the positive terminals are left alone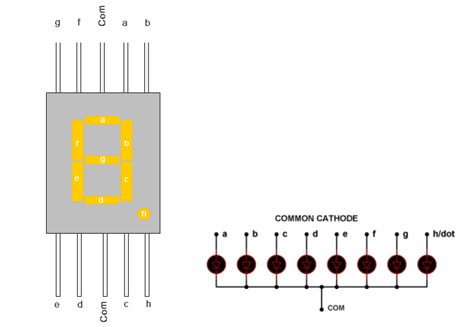 Components
555 timer IC
4026 IC
Common cathode 7 segment display
Two- push ON, push OFF button.
Resistors – 10k (3), 100k
Capacitor 1uF, 22uF
7 Segment Counter Circuit Diagram & Working Explanation
Circuit is quite easy and self-explanatory, we have interfaced the 7 segment to the 4026 IC, PIN 4,5,14 are left open as we haven't used them, PIN 15 used to Reset the counter with the help of a PUSH button Switch. PIN 2 is kept LOW to avoiding the freezing and PIN 13 is kept HIGH to enable the IC.
Now, the another main component of this circuit, other than IC4026, is 555 timer IC. 555 timer is used here to provide the clock pulse on each Button Press, whenever we press the button the counter advance by one. 555 Timer IC is used here in Monostable mode, to know more, go through this article 555 Timer Monostable Multivibrator Circuit.
We have also used a RC circuit (22uf capacitor and 100k resistor) at CLOCK PIN 1 of 4026, so that it only counts one clock pulse on each time button is pressed. Otherwise circuit may behave unexpectedly OR it can count two or more pulses because of noise or bouncing effect of Push button.