Published
April 14, 2021
0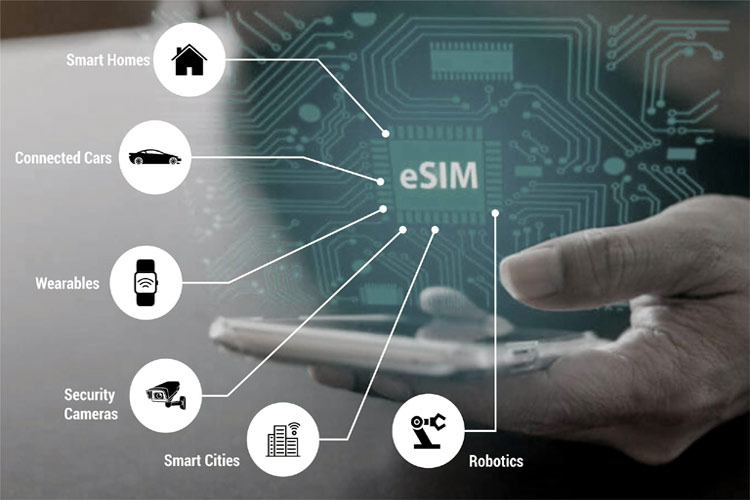 Any latest development or a new origin in technology opens doors for new opportunities! With the advent of IoT and more and more IoT devices being developed, there was a dire need for smart cellular technology. The problem of a smart cellular network was resolved with e-SIM. We all are well aware of the SIM cards that are used by our devices like smartphones, tablets, etc. to connect to any cellular network. e-SIM or the embedded SIM, on the other hand, is different from the conventional SIM cards in a way that in smartphones, and other gadgets, there is an empty SIM card tray for the SIM to be inserted but eSIM is integrated into the phone/device/gadget in the form of a very small chip that is built right into the device.
When it comes to IoT applications, SIM cards prove to be costly, insecure, inflexible, and not suitable for deployment. eSIMs here come as a rescue with all the enhanced features discussed further in the article. eSIM technology has indeed opened up new pathways for different uses of mobile technology. The eSIM helps improve the connectivity options, benefit manufactures, service providers, and end-users alike. As of now, eSIM solutions are being used predominantly in smartphones, laptops, and IoT devices.
The GSMA has predicted that there will be 25.2 billion connected devices by 2025. With the advent of 5G and rapidly increasing network speeds and capacity, many IoT devices could benefit in many ways. Furthermore, according to the new report conducted by Beecham Research and sponsored by Sierra Wireless, the global leader in IoT solutions, 78% of respondents already use eSIMs or plan to use them in the nearby future.
How is e-SIM Technology different from Traditional SIM cards?
Compared to conventional SIM cards we see today, IoT eSIM cards are more durable and can withstand adverse weather conditions. The continuous connection between eSIM and the cloud ensures a constant flow of data. While traditional SIM cards can only store one subscription data tied to a network carrier, eSIM technology can download different subscriber data from different network devices, enabling users to easily switch carriers just by tweaking the settings on their device without changing the physical SIM card.
Talking about size, eSIM is smaller than traditional SIM cards. As there is no SIM card tray required, the device space is saved enabling a smaller device design. e-SIM is useful in wearables like smartwatches, fitness trackers, and IoT sensors. Additionally, the cost of using an eSIM is far cheaper compared to regular SIM cards.
Why eSIM technology is the future of IoT Devices?
eSIM allows users to switch between carriers seamlessly, including in applications where a reliable signal is mandatory. This is useful for IoT devices that move between locations and other IoT implementations.
Durability is another important aspect of the e-SIM because of which IoT implementation is possible. In IoT networks, small sensors might have to be deployed in environments with space constraints and harsh conditions. Here, eSIM plays a vital role. eSIM is built in the device and is protected by the device's outer shell, so it ensures durability and the ability to withstand extreme conditions.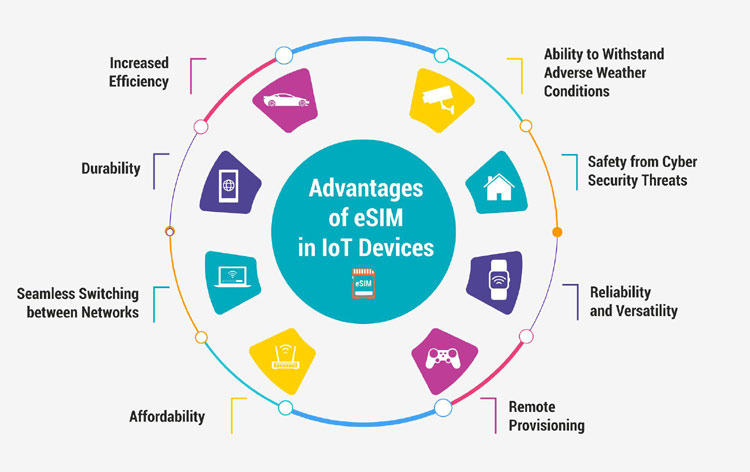 eSIM, when paired with a proper IoT data plan enables users to protect their IoT devices from various types of cybersecurity threats. Security of IoT devices is especially important for IoT devices that track or send sensitive data. e-SIMs are five times smaller than even the nano-SIM cards and this size reduction frees up space in IoT devices leaving space for further enhancements. By removing the size factor of SIM technology through the use of an embedded chip, IoT designers get increased design flexibility. All in all, e-SIM provides reliability and versatility to an IoT device because of its durability, remote provisioning, seamless switching between networks, etc.
You can also check the related articles here:
What is Embedded SIM (eSIM) Technology and how can it help with IoT Product Designs
Ajit Thomas Co-Founder of Cavli Wireless on how their eSIM Solutions Break the Geographic Barriers in IoT Connectivity Applications
IoT Sectors where eSIM Technology is playing a Vital Role
1. Smart Vehicles
Connectivity in vehicles is important for emergency calling systems, it supports a lot of applications like analytics-based solutions such as temperature controlling inside the vehicle, alternative route navigation, vehicle tracking assistance, speed, and fuel alerts, etc. With e-SIM being used, users get the freedom of using voice and data services. eSIMs have a unique identity for each vehicle which helps them to encrypt communication and ensure security in global connectivity for smart vehicle systems.
2. Agriculture
The agriculture sector faces challenges like scarcity of cultivable land, climate problems, scarcity of water, improper use of fertilizers, and uncertainty in availability of resources, etc. These challenges are being overcome with the help of precision agriculture methodology which is based on real-time monitoring of crops and their predictive models through sensors.
The sensors help in determining the types of crops being cultivated in certain conditions. The IoT devices which contain sensors can be connected with eSIMs that work on M2M mode to provide accurate data, thereby helping farmers in increasing the crop yield.
3. Energy Management
Smart metering is one of the major applications of IoT in energy management. Smart meters can help reduce operational costs and automate service and network maintenance. The data collected from these smart meters are periodically collected and sent to the IoT cloud platform using standardized protocols. Remote reading, Retrofitting, automatic invoicing, and predictive maintenance are some of the major advantages of smart metering.
4. Asset Tracking and Tracing
Heavy machinery manufacturers, vehicle manufacturers, and construction equipment manufacturers have to perform global operations and distribute their products to geographically dispersed areas. Conventional provisioning for their shipment on cellular networks poses a lot of challenges. e-SIIM solutions help global manufacturers to use the single integrated module for all connected devices without worrying about deployment. eSIM proves beneficial in terms of streamlined operations, optimized network connectivity, and enhanced control. If the assets are damaged or reach a location where there is poor coverage, eSIM will ensure to notify the logistics manager of the situation, while sustaining the data integrity.
What's Holding Back the eSIM Technology?
Undoubtedly, there are immense benefits of eSIM technology for IoT devices or we can simply say, e-SIM is having a great impact on IoT but, it is important to acknowledge the factors that are holding the mass adoption of this technology.
The e-SIM technology has been here for quite some time yet it is not widely adopted. With this technology being so new, it might take a long time before it can become mainstream. Users are complaining of complexity, which is the biggest cause of the resistance. There are a lot of challenges that need to be addressed for the widespread adoption of e-SIM technology in IoT.
Summing up, it can be said that while not all IoT devices in the market have supported eSIM to date, it is obvious that eSIM is the best bet for IoT and that more and more adoption for the technology is going to take place soon.