Published
June 13, 2019
0
The industrial ecosystem is in the mid of the fourth industrial revolution—Industry 4.0. Robots are taking over the global manufacturing landscape. The trend of robotic process automation has purveyed enormously across a wide range of industries, including automotive, semiconductor & electronics, and pharmaceuticals industries.
In the food & beverage industry, robots are processing, packing, and moving food products to eliminate contamination from human contact. In the electronics industry, robots are employed to process and handle delicate semiconductor wafers in miniaturized electronic circuits. Robots also play a critical role in laboratories to transport microtiter plates between instruments and are used in cleanroom procedures in the pharmaceutical industry.
With robots being viewed as the bedrock upon which a variety of salient business procedures are performed and enhanced, innovative technologies are being adopted by manufacturers to boost the growth of automated industrial facilities. The gripping technology or Robotic end of arm tools have expanded the range of their industrial applications as an integral part of industrial robots and automation.
The global market for robotic end of arm tools recorded the sales of over US$ 1.9 billion in 2018 and is expected to witness exponential growth in the coming years. Leading players in the market are launching robotic end of arm tools that are faster, safer, and more efficient to tap the potential of robotics in industrial automation.
Robotic Penetration: Linchpin for the Robotic End of Arm Tools Market
The increasing prevalence of robots across the industrial landscape is anything but fortuitous. The ubiquity of industrial automation is triggered by the constant pressure to improve business productivity and cut production costs, and robots are slowing taking over a multitude of human operations, both complex and tedious, in manufacturing industries.
Studies have found that a little more than two million industrial robots were employed on factory plants and various commercial locations across the world, in 2017, and the number is likely to cross three million by the end of 2020. Thereby, increasing penetration of industrial robots will pave the way for the future of robotic end of arm tools industry in the coming years.
Advancements Underpinned by Increased End-user Demand for Greater Dexterity and Flexibility
The robotic end of arm tools landscape is witnessing a new trend where applications and end-user needs dictate the designs of grippers, welding torches, and end-effectors. Industrial automation has seen sheer proliferation with the emergence of the trend Industry 4.0 and leading companies are adopting strategies to sync with the dynamic end-user requirements and maintain the lead in the intensified competitive landscape of the market.
 Leading manufacturers in the robotic end of arm tools market are taking up the gauntlet to further enhance the operational capabilities of industrial robots. The constant need for reducing operating costs and improving dexterity and precision is driving manufacturers to shift focus on launching innovative features of robotic end of arm tools. In addition, end-user demand for greater production flexibility and reliability is triggering the adoption of next-generation technologies among robotic end of arm tool market players.
Increasing concerns about robot safety among end-users are attributed for the rise in adoption of safer grippers integrated with sensors that have force limitations that can ensure safety of a human worker around robots. Furthermore, growing demand for grippers or end-effectors that can handle same materials in multiple sizes or different types of materials redefine the emergence of the flexibility trend in the robotic end of arm tools market. The food & beverage industry has been triggering demand for soft grippers that are delicate and flexible enough to be used in food processing and packaging applications without causing damage to the end-product.
Manufacturers are also launching connected end of arm tools to meet the increasing end-user requirements for better human-robot interaction. With the launch of smart and connected grippers and end-effectors, market players are enabling end-users to improve the communication between robotic end of arm tools and other smart components in the automation system. Smarter and more versatile grippers, end-effectors, and other types of robotic end of arm tools are expected to witness burgeoning demand in the industrial landscape, in the upcoming years.
The Rise of Collaborative Robots Raises the Bar for Innovation
The current industrial machinery landscape involves the use of powerful robots in automation applications that operate behind a safety fence. However, the emergence of advanced technologies is pushing the need for improved safety in industrial automation, giving rise to the development of collaborative robots (cobots). Cobots are known to be a lot safer than conventional robots used in automation, as they can detect an obstacle with sensitive force monitoring capability, and thereby, are usually operated unguarded around human workers in an industrial environment.
Increasing popularity and applications of cobots in industrial automation is opening new avenues of growth for robotic end of arm tool manufacturers. Growing presence of cobots spread across industries is triggering the need for making them smarter, safer, and more reliable. As robotic end of arm tools are becoming the workhorse of the automation ecosystem, they are getting special attention for maintaining collaborative status of cobots. Leading manufacturers of end of arm tool are focusing on launching smart, collaborative robotic sensors, grippers, and quick changers that can be integrated with cobots.
Ongoing efforts to establish an effective human-robot collaboration is indicative of a predominant trend in the robotics industry, and consequently, cobots will remain an imperative component in industrial automation in the upcoming years. The International Federation of Robotics (IFR) projects that cobots will emerge as the fastest-growing segment in the industrial automation industry, accounting for over one-third share in the robot sales across globe in 2025. The potential rise in the sales of cobots will provide an impetus to innovation in robotic end of arm tools market in the coming years.
Gripper Technology to Witness Burgeoning Adoption
Grippers have remained high in demand as one of the most used robotic end of arm tools in a wide range of industrial applications. In 2018, grippers recorded the global sales of over US$ 1 billion and accounted for more than half the revenue share of the robotic end of arm tools market, and the trend is likely to prevail in the coming decade. Manufactures are shifting focus towards research & development activities to incorporate advanced gripper technologies and capitalize on the trend of growing adoption of grippers in the industrial automation landscape.
Incorporation of gripper technology is increasing in gripper designing as hybrid robotic end of arm tooling trend is spreading rapidly across industries. Manufacturers are combining multiple gripper technologies in a single robotic end of arm tool, as end-users are pushing the need to a universal gripper that can be compatible for various types of materials. In addition, the growing popularity of parallel motion 2-jaw grippers, 3-jaw grippers, as well as electric grippers, will influence salient business strategies of leading companies in the robotic end of arm tools market in the upcoming years.
Manufacturers are incorporating advanced gripper technologies in complex as well as simple gripper variations; yet the main rule of thumb for manufacturers is to maintain safety, simplicity of technology and ease of use. With the overwhelming abundance of advanced robotic end of arm tools available on the market, end-users will remain more inclined towards flexible, cost-effective, and dexterous variants. Thereby, achieving more simplicity and flexibility by the virtue of next-generation gripper technologies will ultimately play a critical part in manufacturers' business strategies to gain an edge in the robotics end of arm tools market.
Developing Countries in Asia to Remain Revenue Packets for Manufacturers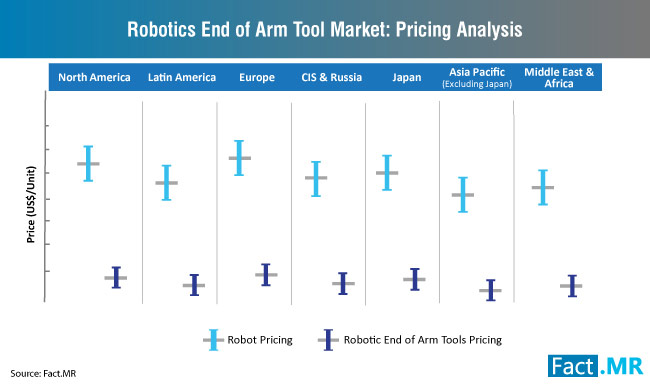 The market for robotic end of arm tools in the Asia Pacific region, excluding Japan, (APEJ) has been growing exponentially as the industrial landscape in developing countries is seeing a sea change with the emergence of technologies. Though the European Union is currently witnessing a rise in demand for cobots in various industrial sectors, the Asia Pacific area is leading the rally in industrial automation ecosystem, thanks to growing investment in Industry 4.0.
In 2018, sales of robotic end of arm tools in APEJ accounted for more than 51% revenue share of the global market, and increasing growth of the automotive industry was the primary driving engine in the region. The adoption of industrial automation has remained the highest in the automotive industry, not only in APEJ but across the world, and this will continue to impact the design of robotic end of arm tools being launched in the market throughout the next decade.
Aditi Yadwadkar is an experienced market research writer and has written extensively on the Electronics and Semiconductor industry. At Future Market Insights (FMI), she works closely with the Electronics and Semiconductor research team to serve the needs of clients from across the globe. These insights are based on a recent study on Robotic End of Arm Tools Market.