Published
November 18, 2020
0
Today with the advancements in technology we have many different types of drones being used for different applications, we have talked in lengths about these drones in our previous article. There have been groundbreaking advancements that have taken place in recent years and we have witnessed subsequent mass adoption of drone technology in different sectors and the horizon seems to be expanding with each passing day. In fact, a growing number of companies are accommodating drone-based outputs into their workflows and availing maximum benefits.
In the past few years, drones have emerged as an essential tool in the energy sector too. Automating the way planning, building, and maintaining sustainable energy sources, in a faster, cheaper, and safer manner than humans ever could; drones nowadays are offering unimaginable possibilities to revolutionize energy industries. Solar power among other renewable energy projects has been the preferred source of energy. Reduced cost of installation over the past decades (which was around 73% earlier) is one of the major reasons for the large adoption of solar solutions. We have also covered the Challenges in setting up a solar farm in previous article.
Whether it's about installing the solar panels, inspecting and repairing large arrays, or even surveying land for solar farm/plant set up; drone photos, maps, and 3D models ensure to help improve productivity and make various tasks easy to perform. In addition to safety and efficiency, drones also allow for more frequent monitoring. Not only are they an ideal choice for time-critical inspections, but they also enable more strategic planned maintenance. Inspection data can even be sent to a smartphone app, allowing maintenance personnel to easily triage and route issues directly from the site.
Globally, there are around six thousand plus utility-scale solar plants where regular inspections are needed. The advantages of using drone technology in solar power plants include:
Increase efficiency – Drones collect data 97% faster than the manual method.
Better Data Collection – Drones efficiently identify the issues that manual processes might miss.
Reduced risk and man-hours – With drones, surveys and inspections can be conducted without traversing expansive terrain.
Improve asset productivity - Drones identify issues early to make informed decisions.
Processing Data Efficiently – Drones help in managing data with a secure online portal, convenient reporting, and an in-field repair app.
Let's understand how UAVs are doing their bit by helping in setting up the solar power plants and their maintenance. 
Land Inspection using Drones
The first and foremost important step is to know and understand every aspect of the land where the solar power plant/farm is to be set up. Of course, inspecting lands using drones is not a simple flight task. The process involves detailed planning and a thorough understanding of the land to be inspected. There are multiple steps required to conduct a successful inspection. The inspection team needs to confirm the dimensions of the solar farm/plant before they can prepare an effective plan.
Drones for Data Collection
Drones can help to collect the data and keep the records of previous inspections which can help the maintenance team in figuring out the causes behind panel faults. There are cases when solar cells do not require replacement of a panel, but keeping track can prevent major failures. The entire data can be collected, stored, and organized for processing. The data collected during the aerial inspection after the installation is complete can be used as a baseline for upcoming inspections.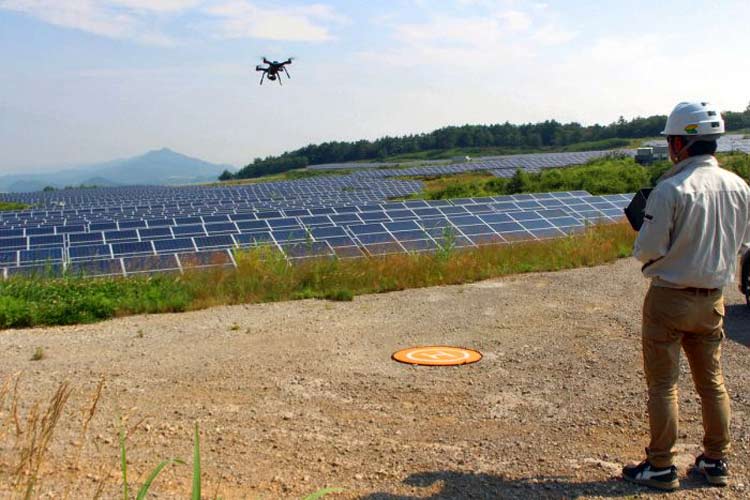 Role of Drones in Solar Power Plant Maintenance
There has been an exponential growth in the adoption of drone technology in solar power plants. The age-old methods of operation and maintenance don't prove to be economically feasible nowadays. For example, two field engineers spending almost a month doing handheld IR analysis, spot checks, etc. on a 100 MW plant will take months. With the adoption of drone technology, these tasks can be done easily and in far lesser time. Aerial images taken by a drone provide a broader perspective of solar plants. This way, maintenance teams receive valuable information like the status of each panel and issues that need to be addressed in real-time.
The use of aerial images not only contributes to improved efficiency in detecting flaws but proves helpful for maintenance purposes. RBG and thermal maps provide precise location data of faults and issues, significantly increasing the accuracy of ground operations and reducing human error.
Increased Output Efficiency
Using drones help cut down the time required for the site assessment, energy maximization, etc. This is one of the main reasons why drones are being used for solar panel inspections Acres of land can be inspected in a day that otherwise would have taken months if done manually.
Early, detection of faulty elements within a solar power plant can help in preventing major output deficiencies. The faster the maintenance team detects possible defects, the quicker they will be able to respond and address the issue. The inspections and maintenance conducted effectively will prove to be in the favor of the investors.
Equinox's Drones is a startup that works towards innovating and integrating drone solutions into scalable real-world applications. Delivering quality Geospatial solutions with speed, accuracy, and innovation to public and private sectors, the company has successfully made a mark.
Talking to Vaishak Hebbar from Equinox's Drones, we got insightful information on how drones are helping in solar power plants.
"With increasing solar farms, the obligation to sustain their productivity in a cost-efficient and timely fashion has become a priority. Viewing UAVs' capabilities and the disadvantages of manual inspection techniques, drones are becoming a natural fit for solar farm inspections. Solar panel inspections are backed with revolutionary Drone Survey Technology, visual and thermal aerial inspections, aerial infrared imaging, etc. Drone surveys in large solar-powered plants have proven to be significantly valuable.
Drone-powered solutions provide practical, trustworthy, and high-resolution data to improve the operational efficiency of large solar power plants. Along with drone-powered solutions, the renewable energy sector is not just sustainable but also unstoppable. By employing drones in the renewable energy sector, firms can preserve their assets' goodwill and sustain energy output through timely and precise solar panel inspections. UAV Technology on-site yields valid, real-time, and cost-efficient inspection data instantly. Increased efficiency, improved quality and volume of data, avoiding dangerous working hours, reduced costs, storing, tracking, and efficiently distributing data are the advantages of using drone survey technology in solar power plants."
To sum up, drones have already started making a huge difference in the planning, construction, and operational phases of solar power plants and solar farms. There is a range of benefits that are persuading solar farm owners to adopt drone technology and ease the process of setting and maintaining the solar power plant.