Published
November 28, 2019
0
As most of the types of equipment we use today are being automated with state-of-the-art technologies, the advent of autonomous vehicles is no longer a surprise. Various mechanical features in conventional cars are being transformed into an automatic function. Consequently, today, semi-autonomous cars have become more ubiquitous than ever.
With technology taking over a great deal of drivers' jobs in modern vehicles rapidly, the world full of fully autonomous does not seem like an exaggerated version of a child's dream anymore. Both interest and investments in fully autonomous cars are increasing significantly, and this is poised to transform the transportation industry very soon.
Taking into consideration the speed at which the technology is evolving, it can be easily assumed that fully autonomous vehicles are eminent and the future of Self Driving cars is bright. But are we ready for the world where self-driving cars dominate roads? How close are we to self-driving cars where cars can be safely driven without any human interference?
Future of Driverless Cars
Driverless cars are set to spread as a life-changing trend in the automotive industry, but what does the arrival of driverless vehicles mean for the world's transportation system?
Fully autonomous cars with the autonomy of levels 4 and 5 are considered fully autonomous vehicles. In autonomous cars with the automation of level 4, drivers do not require to take over navigation and the vehicle carries out virtually all the types of driving functions. Manual interference is required when the car can no longer handle a situation such as off-the-road driving. Level 5 autonomous cars are completely self-driving vehicles and can handle any kind of road situation without the need for manual control.
With the advent of recent advancements in information technology and IoT, connected and autonomous cars are will be driving themselves intelligently without any human interference. A high level of autonomy will give self-driving cars the complete control of the vehicles including speed controls, navigation, emergency features, and many other safety protocols.
How safe are Autonomous Cars?
As the safety of passengers will continue to remain of paramount importance, future road networks can be easily compared to the complexity of blood vessels in the human body. An infrastructure with efficient traffic management, pollution control, and navigation with the highest safety will take the center stage in the transportation landscape of the future. The world today seems far away from an infrastructure for fully autonomous vehicles to run on roads, ensuring the safe, effective, and efficient flow of information.
Where does the Automotive World Stand Right Now?
Currently, no self-driving vehicles with autonomy levels 4 and 5 exist in the commercial market. Autonomous features of modern cars today, include automatic parking, collision detection, and other automatic navigation features advanced driver assistance systems (ADAS). However, they lack the intelligence required for driving distances automatically and safely, without any human interference.
Autonomous vehicles with levels 1, 2, and 3 to an extent, are available in the market right now. Self-driving cars with level 1 autonomy can only perform one autonomous task at a time, such as adaptive cruise control and automatic lane keeping. Level 2 autonomous cars can perform at least two autonomous tasks at a time, which mostly include safety-related functions. Level 3 autonomous vehicles offer self-driving modes for a pre-defined set of driving functions, commonly in geo-fenced areas. Audi A8 and Tesla's Autopilot are among the most popular examples of autonomy levels 3 and 2, respectively.
A mounting number of auto giants are investing heavily in making self-driving cars safer than ever. According to recent announcements by Tesla, it is set to roll out its "full self-driving" (FSD) capabilities by the end of 2019. Offering level 3 autonomous driving features such as hands-off control of the vehicle at medium speeds is on the company's list of future plans.
Volkswagen also announced its plans to establishing its own subsidiary to boost the development of its level 4 autonomous vehicles including self-driving cargo and passenger versions of its minibus, the I.D. Buzz. Other global automotive companies in the race towards the future of fully autonomous vehicles include the collaboration between Mercedes and Daimler; Ford Motor Company through its joint venture with Argo AI; General Motors with its subsidiary GM Cruise; the consortium formed by General Motors, Bosch, Toyota, and Arm; and Google with its Waymo spinoff.
When will we have Fully Autonomous Cars?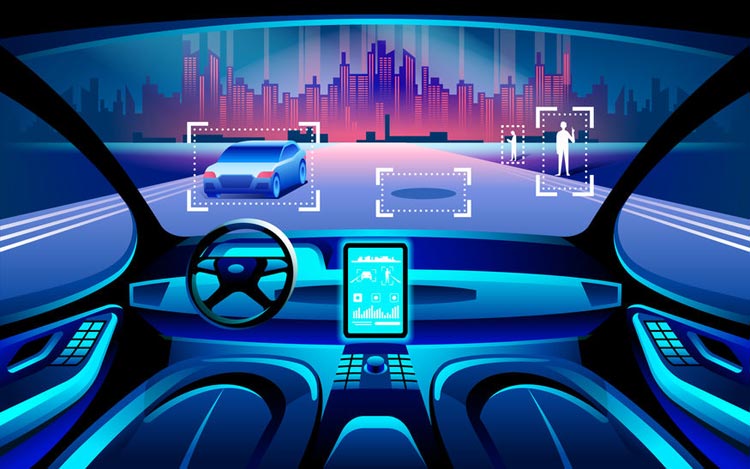 Tech giants like Tesla and Google predicted in 2015 that we will see fully autonomous vehicles on roads by 2018. Many other automotive and technology companies such as Delphi, Nutonomy, and General Motors have announced to put a fully autonomous car into production in late 2019 or early 2020. Though fully autonomy in the automotive industry seems much closer today than ever, the timeline keeps shifting due to various technological and infrastructural roadblocks.
Recent advancements in technologies such as Artificial Intelligence (AI), Machine Learning (ML), Internet of Things (IoT), and other communication technologies have fueled the movement in fully autonomous vehicle testing landscape. However, the reality of autonomous driving still seems like a concept from the future. We are still away from a technologically strong infrastructure for level 5, fully autonomous vehicles that can completely 'understand' the complexity of road traffic management and detect several operational issues.
The incompetence of the state-of-the-art software integrated with today's autonomous cars in taking the ultimate responsibility of safe and efficient driving is creating hurdles in making fully autonomous vehicles readily. Also, uncertainties about payback and the changing needs for cast-iron is further adding to the high cost of level 4 and 5 self-driving cars. Nevertheless, technological advancements have bolstered the transition from human-driven cars to fully-autonomous vehicles, notwithstanding the lack of clarity about regulatory and legal frameworks about driverless vehicles.
Though the future of fully autonomous vehicles seems far away from today, the automotive industry is leveraging advancements in cellular network technologies such as 5G with breakneck speeds. In the coming years, the convergence of the automotive industry with the IT and telecom industry is expected to fuel innovations to improve the safety and efficiency of the AI systems in fully autonomous vehicles, soon turning the future into reality.