For the last many years, automobile manufacturers have turned their attention towards self-driven cars. It all became serious when Google launched its self-driving car project (Wamyo) in 2009. A few years later, Elon Musk announced Tesla would build a self-driving system into its cars and in November 2018, Tesla launched a feature called Navigate on Autopilot. By 2013, major automotive companies including General Motors, Ford, Mercedes Benz, BMW, and others started working on their own Autonomous Vehicle technologies. Just recently, Uber has also announced bringing self-driving cars to Washington, DC. GM and Honda have also announced the launch of a new self-driving car named Origin.
With the technological boom of Artificial Intelligence (AI) and IoT, it's no wonder that a large number of automotive giants are working to make fully self-driven or driverless cars a reality. The race to get self-driving cars on the road is speeding up and the autonomous vehicle market is growing to a great extent. Researchers forecast that by 2025 we'll see around 8 million autonomous or semi-autonomous vehicles on the road. The autonomous vehicle global market is expected to reach $36 billion by 2025, with North America owning 29% of all the self-driving vehicles in the world. The numbers speak for themselves, but there was even a prediction by guardian stating "You'll be a permanent backseat driver in 2020" but the fact is we are not even close to something like that today. Self-Driving cars on its own have many levels in terms of functionality and it's not something to be compared with Si-Fi movies. Yes, Knight Rider has to wait!! To understand self-driving cars better, let's look at the various levels of self-driving cars with its functionality and who is manufacturing them.
Autonomous Driving Levels
As defined by the J2016 standard in 2016 and 2018, from SAE (Society Automotive Engineers) there are 6 levels of driving automation. Different levels of automated vehicles represent capabilities and options for drivers. These levels of automation describe various elements and capabilities of the vehicles as they pertain to driving automation. Many self-driving vehicles that exist in the market today are from level 0s to 2s. Automakers around the globe are talking about advanced driver assistance systems (ADAS) which means that the vehicle features a few automated systems like steering or accelerating for driver assistance. Cars with ADAS systems can detect certain objects, do basic calculations, can alert the driver of bad road conditions and in some cases, automatically stop the vehicle. 
Level 0 (No Automation): At this level, the driver performs all operating tasks like steering, braking, accelerating or slowing down, etc. The automated system may issue warnings and momentarily intervene but has no sustained vehicle control. Vehicles of level 0 come endowed with features like Forward Collision-avoidance Assist (FCA), Lane Keeping Assist (LKA), Blind-Spot Collision Warning (BCW), and Driver Attention Warning (DAW), yet the driver has to take the charge and control the vehicle.
Most of the vehicles that we use are still Level 0 today. 2007 Ford Focus, 2010 Toyota Prius are some of the examples of cars that are at level 0 of autonomy.
Level 1 (Driver Assistance): At this level, the driver and the system share control of the vehicle. The driver handles all accelerating, braking, and monitoring of the vehicle whereas the system performs functions like maintaining a set speed (cruise control) or engine and brake power to maintain and vary the speed (Adaptive Cruise Control or ACC), lane-keeping assistance, etc.
Level 1 autonomy can be found in almost all cars today, including the 2018 Toyota Corolla (Toyota Safety Sense1) and the 2018 Nissan Sentra (Intelligent Cruise Control), Kia Stinger GT, Audi A 7 (2010+), 2011 Jeep Cherokee several car models by Chevrolet, etc.             
Level 2 (Partial Automation): Also referred to as 'hands-off', this level vehicles can control both steering and accelerating/decelerating. The person at the driver's seat must take control of the car at any time when necessary. Many automakers like Hyundai, Kia, Genesis, etc. are developing vehicles at Level 2.  
Tesla Autopilot, Volvo Pilot Assist, Cadillac CT6's Super Cruise, Mercedes-Benz Distronic Plus, Nissan ProPilot Assist, and Audi Traffic Jam Assist are some examples of Level 2 autonomous capabilities. Tesla's Autopilot is a suite of driver assistance technologies including Traffic-Aware Cruise Control and Autosteer with lane change that allows automatic steering on undivided roads but with speed restrictions. GM's Super Cruise is another excellent example of Level 2 autonomous cars. It is a Super Cruise-enabled car that allows you to take your hands off the steering wheel.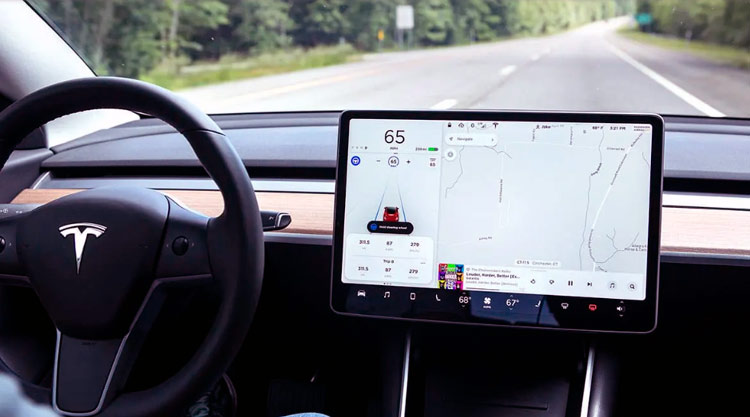 Level 3 (Conditional Automation): Also referred to as 'eyes-off' level, vehicles at this level itself control all monitoring of the environment (using sensors like LiDAR) although the driver needs to be attentive but can disengage from "safety-critical" functions like braking and leave it to the technology when conditions are safe. Many current Level 3 vehicles require no human attention to the road at speeds less than 37 miles per hour.
Audi A8 is the first production car to have Level 3 autonomy. At the push of a button, the A8′s AI Traffic Jam Pilot manages starting, steering, throttle and braking in slow-moving traffic at up to 60km/h on major roads where a physical barrier separates the two carriageways. When the system reaches its limits the driver is alerted to take over the driving. Joining the queue is the Honda Motors that plans to become the first Japanese automaker to commercially launch a vehicle with SAE Level 3 autonomous driving technology later this year.
Level 4 (High Automation): Also referred to as 'mind-off, vehicles at this level are capable of steering, braking, accelerating, monitoring the vehicle and roadway as well as responding to events, determining when to change lanes, turn, and use signals. The autonomous driving system at this level would first notify the driver when conditions are safe, and only then does the driver switch the vehicle into this mode. It cannot determine between more dynamic driving situations like traffic jams or a merge onto the highway.
Honda has announced that it is working towards a Level 4 vehicle by 2026. Lyft, Uber, Google, and more have been working on Level 4 vehicles for quite some time now.
Level 5 (Complete Automation): Vehicles at this level are the ones that require no human interaction at all. In simple words, vehicles at level 4 are fully autonomous. Robotic taxis, Audi's Aicon concept are the vehicles of this level. There is no need for pedals, brakes or a steering wheel, as the autonomous vehicle system controls all critical tasks, monitoring of the environment and identification of unique driving conditions like traffic jams. A few years back, NVIDIA announced its AI computer, Drive PX Pegasus to help achieve level 5 autonomy where the driver simply plugs in the destination and leave the rest up to the vehicle itself.
Several current concept cars including the Volkswagen Group SeDriC (SElf-DRIving Car) and the Audi AIcon concept are Level 5 autonomous vehicles. The Numo is a level 5 vehicle with no space for a driver. 
Talking about autonomous taxis, the ride-sharing giant, Uber has signed a deal with Volvo to develop self-driving vehicles. Any time soon we can see, the Uber self-driving taxis manufactured by Volvo running on the roads. Nissan too has begun the trials of its Easy Ride service in Yokohama, Japan and it is anticipated that there will be a full-fledged autonomous taxi service up and running in time for the Tokyo Olympics this year. Other than that, Tesla is also working towards making its cars work as a self-driving taxi when not in use.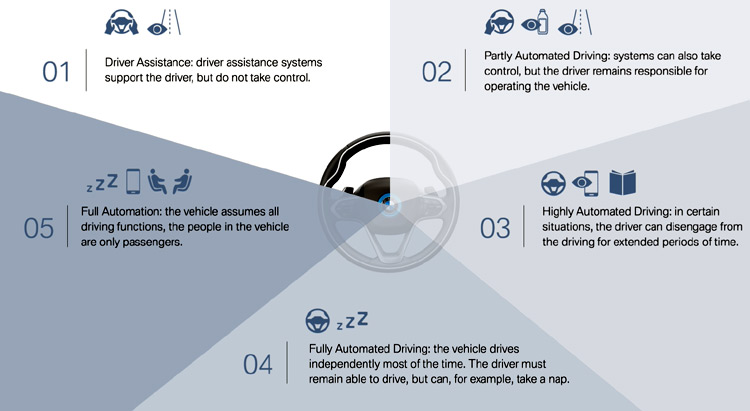 ​
Not just the automotive giants; various startups like Fish Eye Box, Flux Auto, etc. are also contributing to the manufacturing of self-driven cars. According to the top car-makers, autonomous vehicles (Level 4) will start to hit the roads by 2020. However, most of the research and consulting firms believe that it will not be that soon and level 4 cars will only gain some market share in 2025, while level 5 cars may be a reality 10 years from now.
To sum up, we can say that with the advancements of technology for automated driving cars over the past years, one thing that we can be sure of is that we are witnessing the automobile revolution. There is no doubt that automobile manufacturers will continue to implement advanced technologies and roll out more and more automated vehicles.