You must have converted your picture in 'Black and white Sketch' using some software or App. This effect looks very cool and appealing. This Pencil sketch type painting is also a very popular art and people used build their sketch portrait by Artists. But you know it's very expensive to get your Sketch build by some good Artist, but here is way! You can get your real pencil sketch portrait build just in price of a cup of Coffee. Yes, we are here with another powerful use of Raspberry Pi. Blackstripes team have built a great machine using Raspberry Pi, which can literally draw Real Pencil Sketch in few minutes.
They are two software developers who built this Raspberry Pi Artbot using some stepper motors and drivers with Raspberry Pi. They have built three versions of this machine that is Blackstripes Mark 1, Blackstrips Mark 2 and Blackstripes Mini. These machines are very accurate and can build big beautiful sketches in few minutes.
Although they haven't shared their design much but they kept its software and algorithms as open source, if you are good with Raspberry Pi you can build this machine by looking into it. This is a V-plotter machine and pencil is controlled by some stepper motors for drawing. There are some other good Raspberry Pi V-plotter machines out there, but this one is at another level and it makes marvellous murals like professional Artists in very less time.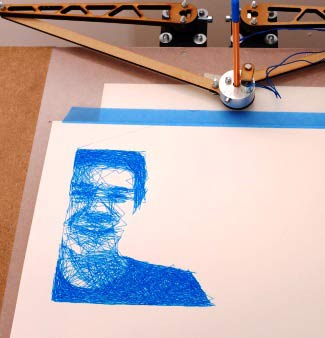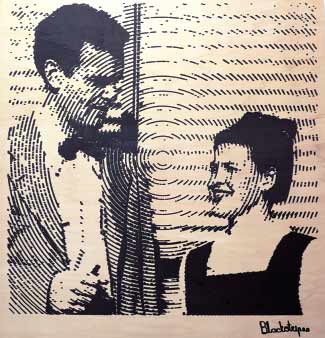 Further Blackstripes offer paid service to build your portrait and then ship it to you. You just need to upload your Picture on its site and then you can see the preview and submit it for making the portrait. They have many options for design like you can build your Sketch using Pencil, pen or marker, you can choose style like spiral, classic or sketchy with your favourite color tone and you can also choose to build it on a paper or wooden frame. Price is basically depends upon the size, it stars from 30 cm x 30 cm for Euro 25 and goes up to 145 x 155 for Euro 325.
They also sell these Blackstripes machines with preinstalled software and manual, you can buy them from their website and can start your own business. Further they are planning to make some DIY kits to build your own BlackStripes machine. Check out their YouTube channel to find out more Sketching Videos using Blackstripes.