Today is the time of Wearable Tech Gadgets, like we already have some great stuff like Google Glass, Oculus Rift, SmartWatch etc. But can you imagine, 'wearing' the whole Computer in your Glasses! Yes you can do this using Raspberry Pi, which is referred as Pocket size Computer. This Instructable will teach you How to build a Raspberry Pi Powered Wearable Computer.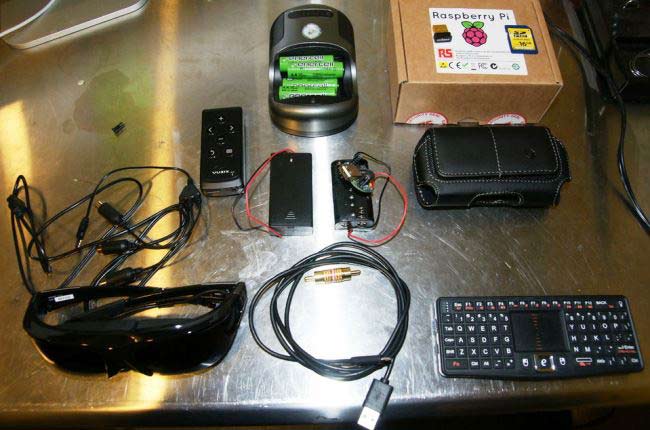 It's just the matter of connecting Video Eyewear Glasses to the Raspberry Pi and providing it proper power. Vuzix Wrap 920 Video Glasses are used in this Instructable, but you can use any suitable and inexpensive Virtual Video Glasses. The whole Project is powered by 4 AA batteries with MintyBoost. But as this MintyBoost only has the room for 2 Batteries, other 2 AA batteries are externally wired to the MultiBoost. Rechargeable batteries are the most preferred.
A Wi-Fi dongle and a mini keyboard are attached with it. Also proper Heat sink is provided to Raspberry Pi processor.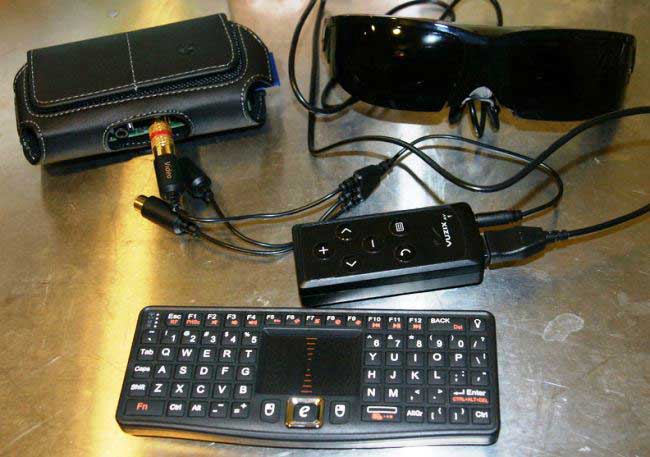 Now finally, Video Glasses are connected to Raspberry Pi with a RCA adapter and RCA coupler, going through a Control Box, which comes with Video Glasses. The other end of RCA coupler is connected to yellow RCA output of Raspberry Pi Model B. New models of Raspberry Pi, that is Raspberry Pi 2 and 3, don't have yellow RCA output, so Video Glasses can be connected using 3.5 mm 4-pole cable to the 3.5mm stereo jack of Raspberry Pi. Or if your Video Glasses has HDMI input, you can directly connect it to Raspberry Pi's HDMI port.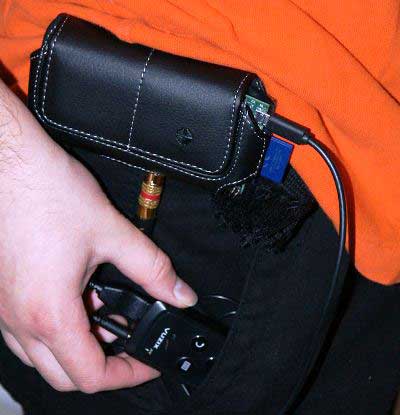 So now you can put the Raspberry pi in Cellphone case, Clipped onto the Belt, and battery pack & control box in your pockets. Now just Power On the Raspberry Pi and watch HD videos, check mails, Browse web etc just by wearing your Video Glasses, from anywhere while you are hanging outside.