Published
October 8, 2019
0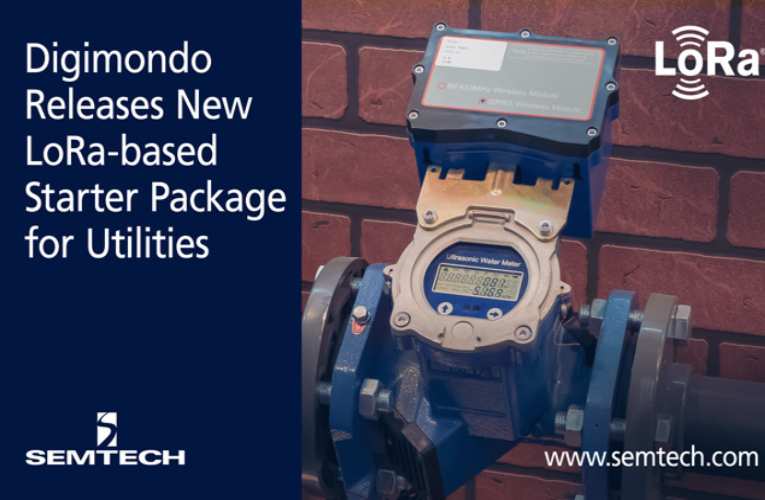 Semtech Corporation and Digimondo jointly announced the launch of a new end to end smart utility starter package based on Semtech's LoRa devices and the LoRaWAN protocol, which is simple to use by the customers even if they don't have prior IoT experience. This new solution simplifies the deployment and operation of a LoRaWAN network and allows the municipal utilities insight into how the solutions developed to the LoRaWAN standard could improve their process and applications.
The smart utility starter package provides customers everything they need to deploy the LoRa-based smart utility applications, the software, hardware and experience necessary to create smart utility networks which offers the advantages of efficiency and cost saving. This new infrastructure will be offered to citizens, businesses and other city groups in the upcoming years. With the starter package the customers can focus on crating effective smart utility applications that can offer their business a clear return on investment (ROI). The customers are also able to gain tangible experience with LoRa devices and IoT, accelerating the growth of smart metering solution and the adoption of the LoRaWAN protocol.
The Digimodo starter package helps in digitization of the municipal utilities processes without great effort or expense. The starter package includes the licenses for Digimondo's software solutions, the firefly LoRaWAN-based network server and the niota data hub, training for employees, support, several devices, and LoRa-based gateways. The applications can be deployed within few weeks. Semtech and Digimondo will exhibit this package at Metering Days 2019, taking place October 9-10, 2019 in Fulda, Germany.