If you are the Systems Engineer or someone who often has to remotely access your workstation or server, you must have used apps like TeamViewer, Anydesk or other VPN methods to control your PC remotely. These apps undoubtedly solve the purpose but you need to manually go and switch on your system as these apps are incapable of rebooting or accessing your BIOS, let alone turning on your PC. To overcome this problem, Maxim Devaev who is an Engineer by profession built his own open source KVM based on Raspberry Pi.
KVM stands for keyboard, video and mouse, which basically means that this device lets you control your computer from anywhere around the globe. Although there are a lot of products in the market for controlling your PC or server, they usually cost around $500. On the other hand, this Pi-KVM v3 Hat Board is listed for $145 and the kit includes PiKVM v3 Hat, an ATX adapter, USB – C bridge, 2 x CSI-2 cables, jumper wires, screws and brass standoffs.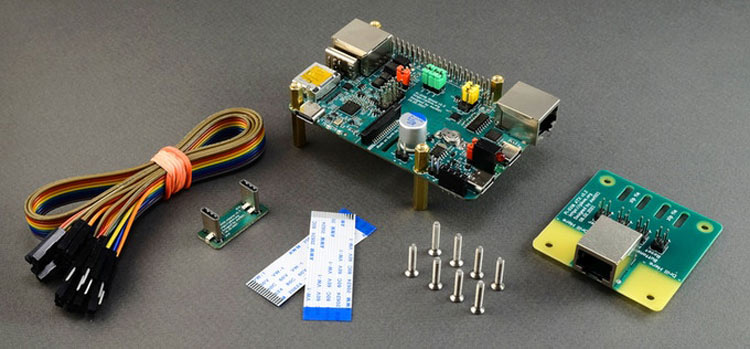 This device is capable of working on Pi zero, but to experience the full potential of this system, the Raspberry Pi 4 board is advised. This device can be used to control, configure and fix problems in your workstation remotely, furthermore, it even lets you reinstall the OS using the virtual CD-ROM or Flash drive. Pi-KVM can simulate a keyboard, mouse and even a monitor and you can get the complete access of the system over a web browser, eliminating the need of any remote ports, protocols or services while giving you a secure hardware level access. It has the smallest video delay amongst its competitor with latency of just 100ms. It employs SSL to protect the traffic from unauthorised access from any third party.
Features of Pi-KVM v3 Hat
Fully open-source software and fine-tuned and pre-configured Linux based OS.
Access to the server via Web UI or VNC.
 HDMI video capture with extra low latency using MJPEG or H.264/WebRTC (1080p 50Hz max).
 HDMI audio capture (hardware based; software work in progress).
 USB keyboard & mouse, 
Bootable Virtual CD-ROM & Flash Drive;
Ability to simulate "insert & eject" for USB devices.
 Onboard ATX controller to manage server power supply.
 PWM fan controller.
A real-time clock for accurate logging.
CISCO-style and USB serial console port (to manage PKVM OS or to connect to the server).
Ability to use IPMI BMC, IPMI SoL, Redfish and Wake-on-LAN to control the server.
 Extensible Authentication and SSL encryption out of the box.
 Health monitoring of the Raspberry Pi.
Control GPIO ports and USB relays from the Web UI.
And one more thing: It's compatible with Apple computers
Our take on this device is that if you want to control your workstation or server, using KVM over IP solution with the fraction of cost of commercially available products while still having the ability to control GPIO ports, configure server using ATX or get a full HD feed with lowest delay possible, this Pi KVM v3 Hat is budget-friendly device that will suffice your needs. To know more about this product, check their Kickstarter page.