GetWired is a new wired home automation system announced by Dmoatic – a DIY Home Automation Enthusiast group from Poland. Although it is the age of wireless automation, the wired automation modules have the advantages of their own like communication stability, higher throughput, lower latency, Immune interfaces, etc. On top of all, it needs no batteries and no internet connection which makes it a secure, reliable, and affordable home automation solution. GetWired is designed to have four main major modules namely the MCU module, a 2SSR shield, an RGBW Shield, and an Ethernet Gateway.
The MCU module has a microcontroller and RS185 transceiver board as shown in the picture below. The transceiver board has Molex connectors that are compatible with a variety of shields. The designers can interface the module for many automation applications and are ready for remote, Firmware Over The Wire (FotW) updates and support various peripherals, including buttons, digital sensors, and analog sensors.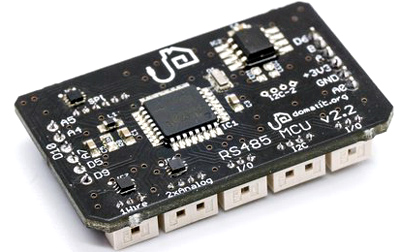 The 2SSR Shield is an in-wall mountable-2-channel AC controller shield for the MCU module. It is designed with solid-state relays as shown in the picture below. It supports 200W of sustained load (tested under 230 VAC) and also includes an analog current sensor for power monitoring, and is suitable for use with lighting and roller shutters. The 2SSR Module Opto-insulates logic from AC load and is electronically, thermally, and physically fused for maximum safety.
RGBW Shield is an In-wall mountable, 4-channel, 12-30 VDC dimmer suitable for use with white, RGB, and RGBW receivers. This module also includes analog and temperature sensors that are electronically and thermally Opto-insulated. The RGBW Shield is shown below.
The Ethernet Gateway acts as a bridge between RS485 and Ethernet communication standards, this allows you to connect GetWired System- up to 63 modules- to your LAN and the Internet. It is compatible with a large variety of open-source home automation controllers and it only consumes about 0.3W of power due to its extremely efficient DC/DC converter. It includes a panel with LEDs and buttons that allow you to monitor and control the basic functions of the system.
Features of GetWired
The RS485-based wired home automation system is capable of controlling home appliances, lighting, roller shutters, and more providing a complete solution
Open hardware and open-source software makes it versatile and Future Proof
GetWired is Arduino IDE compatible, making it easy to use and configure
Extremely low energy consumption, making it an efficient device
It does not require cloud services and does not send anything out on the Internet (unless you tell it to). This makes the device highly secure and safe
Modules do not require Wi-Fi Internet access and can work even when your ISP is down
Protected against Electrostatic Discharge (ESD), overcurrent, overvoltage, and reverse polarity
Ready for plug & play use with most open-source home automation controllers, including Domoticz and Home Assistant
The developers have started a funding campaign with a goal of $10k to launch GetWired. For more information about GetWired, visit the official website or their Crowd Supply funding page.