Published
October 18, 2021
0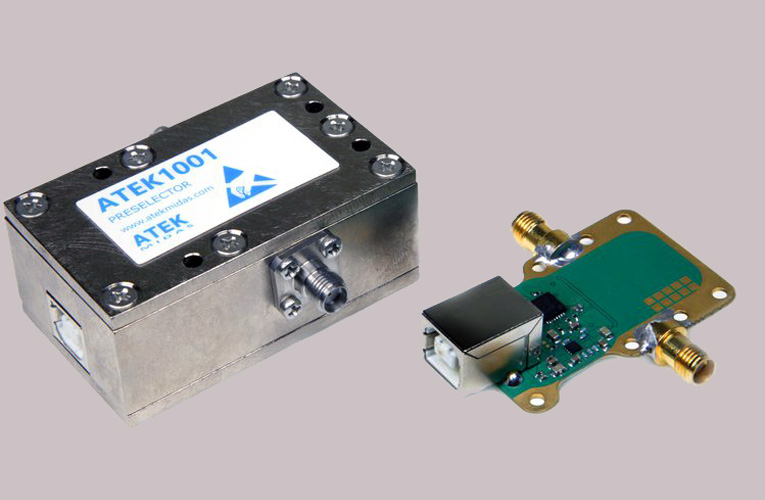 ATEK1001 by Atek Midas is an open source, low-cost, software-definable front end preselector module for SDRs and wideband receivers. This sub-octave filter bank/preselector covers a frequency range of 485-7700 MHz in seven bands. In addition to providing filtering across seven fixed-frequency bands, the device has an off-chip bypass mode that can be used for full bypass or to engage additional external filtering.
The versatile ATEK1001 board can be used for providing programmable bandpass filtering for a software-defined radio, among other applications. In the receive path, the filtering can be used to mitigate the effect of strong blocking signals while in the transmit path, it can be used to help reduce out-of-band radiation.
This unique preselector is configured via USB and has a 70 MHz low-pass filter fitted in the bypass position. It provides 43 dBm IIP3 which allows users to realize high dynamic range wideband receiver frontends. Sub-octave filterbank architecture improves overall system IIP2.
Key Features of ATEK1001 Pre-Selector Module
Frequency Range: 485–7700MHz

7 Switchable Band Pass Filters

Custom milled metal enclosure

USB interface for control and Vdd supply

IIP3: 43 dBm

36.4×59.9×24.8 mm compact size
Housed in custom milled metal enclosure with USB interface which allows simple control and the bias supply, the ATEK1001 pre-selector is available in custom package with different module options available upon request.