Published
September 21, 2021
0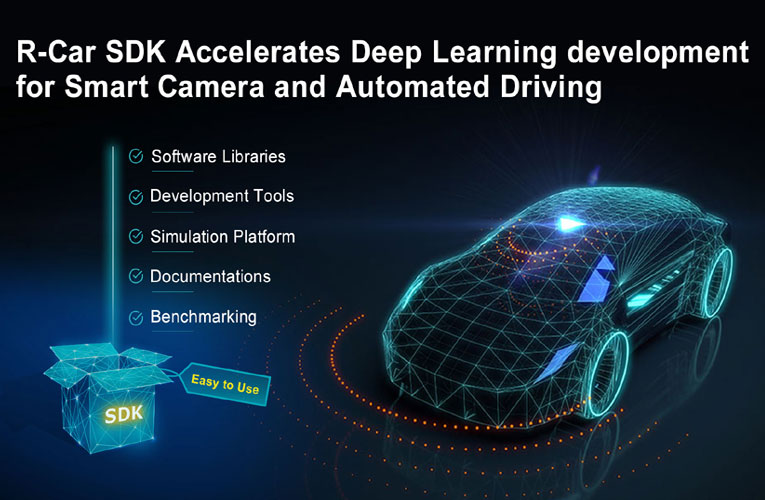 Renesas Electronics Corporation has unveiled the R-Car Software Development Kit (SDK) which is a complete software platform in a single package that enables quicker and easier software development and validation for smart camera and automated driving applications used in passenger, commercial, and off-road vehicles. The new R-Car SDK is built for rule-based automotive computer vision and AI-based functions.
The simulation platform offers both AI and conventional hardware accelerators for highly accurate simulations in real time, while providing a full suite of development PC-based tools for both Windows and Linux as well as multiple libraries, including support for deep learning, computer vision, video codecs, and 3D graphics (Linux only). Besides Linux, delivered as Open-Source SW, it also supports multiple ASIL-D compliant operating systems (Linux, QNX, eMCOS, and Integrity) in a single package.
Optimized for use with Renesas' state-of-the-art R-Car V3H and R-Car V3M system-on-chips (SoCs), this R-Car SDK includes a full set of software samples, popular CNN networks, a workshop, and application notes, which makes it easier for Renesas R-Car platform newcomers to access the technology and enable a quick start for development.
Moreover, Customers can also combine the R-Car V series and SDK with Renesas' high-performance, low-power RH850 microcontrollers and automotive power management products to further streamline hardware design efforts, reduce functional safety validation requirements, and reduce power consumption for smart cameras and other computer vision-based applications.