Published
November 22, 2019
0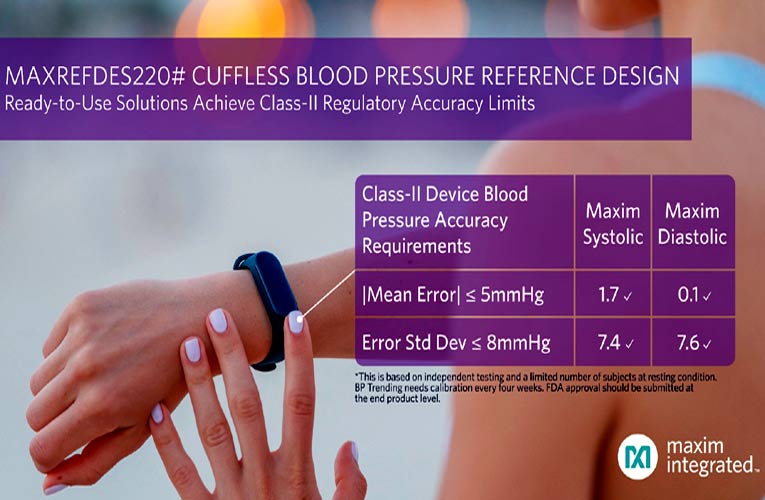 Maxim Integrated has introduced a solid-state blood pressure monitoring solution for accurate measurement, earlier it was only possible with bulky and mechanical cuff based medical devices. The designers can easily develop the blood pressure solution with the MAXREFDES220# reference design, which consists of a complete integrated optical sensor module (MAX30101 or MAX30102), a microcontroller sensor hub (MAX32664D) and sensing algorithm. The optical blood-pressure solution can be embedded into Smartphones or any wearable devices; it enables the users to measure blood pressure anywhere and anytime by just placing their finger on the device for 30-45 seconds.
The MAX30101 (using three LEDs) and MAX30102 (using two LEDs) pulse-oximeter and a heart rate optical sensor modules combine photo-detectors, LEDs and analog front end (AFE) electronics with an integrated cover glass. The integrated optical design and lenses on top approach enable optimal signal to noise ratio (SNR) for a small, lower-cost module within a small 5.6mmx3.3mm 14-pin optical package with an I2C interface to sensor hub IC.
The MAX32664D sensor hub IC includes firmware that controls the sensor and executes the algorithms that are used to measure cuffless blood pressure, heart rate, and blood oxygen levels. The small size (1.6mmx1.6mm) of the sensor hub IC allows it to easily fit into small devices to seamlessly and effortlessly connect to a device's host microcontroller.
The MAXREFDES220# provides a higher rate of accuracy that meets class-ll regulatory limits. For example, under resting-only measurement conditions, the solution provides the following accuracies:
Systolic Error: Mean = 1.7mmHg, Std Dev = 7.4mmHg
Diastolic Error: Mean = 0.1mmHg, Std Dev = 7.6mmHg
For reference, Class-II regulatory limits are |Mean Error| ≤ 5mmHg and Std Dev ≤ 8mmHg
To maintain the above-mentioned accuracy the solution requires calibration every four weeks. The MAXREFDES220# serves the key advantages like accurate blood pressure measurement without a cuff, easy to design and faster time to market.
Availability and Pricing
The MAXREFDES220# reference design is available at Maxim's website for $100; also available from authorized distributors
MAX32664D in WLP package is available at Maxim's website for $2.63 (1000-up, FOB USA); select variants available from authorized distributors
MAX30101 is available at Maxim's website for $4.23 (1000-up, FOB USA); also available from authorized distributors
MAX30102 is available at Maxim's website for $4.13 (1000-up, FOB USA); also available from authorized distributors