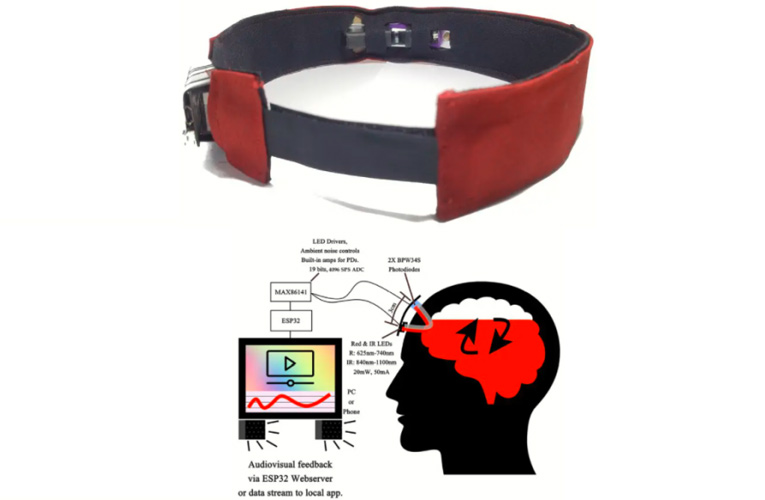 HEGduino V2 from AlasKit is a flexible FNIRD and blood-flow biofeedback kit that's a smart low-cost, intuitive home brain training and research-grade cerebral blood-flow monitoring solution. This compact device is incorporated with Heart Rate Variability (HRV) training and can also monitor breathing and skin temperature. It provides much more consistent signal quality and allows for combined HEG and HRV training.
The easy-to-use HEGduino V2 headset comes with support for wireless operation. The device also comes with an ESP32 breakout board with rechargeable battery support. The ESP32 board helps in the interfacing of the HEGduino V2 with the local machine and is compatible with Arduino IDE and ESP-IDF and it enables complete customization of the core firmware. The Wi-Fi and Bluetooth of the ESP32 board let users to explore the flexible connectivity of the device.

The 2×4096 SPS sensing with a 19-bit resolution sensor comes with a free, easy-to-use pulse oximeter app for both mobile and desktop, with API support that has been evolving since its first release back in 2020 and is continuing to be enhanced with various iterations.
Key Features of HEGduino V2
Significantly improved signal quality allows for clinical-grade data
Higher caliber hardware enables much deeper insight possibilities (e.g. seeing brain waves in cerebral fluid, brain blood pressure monitoring, Heart/Pulse Rate Variability)
Lower profile design
Expanded software support to mesh with our upcoming EEG software
The device's easy-to-use software helps users get started with home brain training quickly and its uncompromising hackability enables users to explore science and engineering readily. The team is working on more projects lined up including FreeEEG32 that will be launching soon.