Published
July 28, 2021
0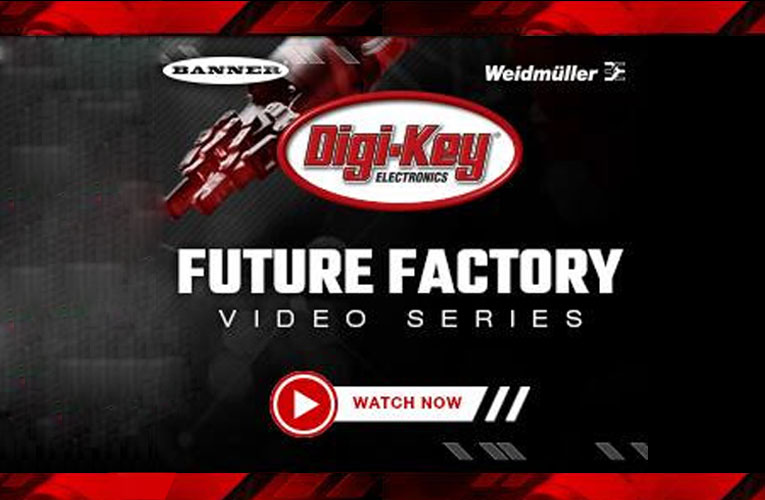 Digi-Key has launched a new video series "Factory Tomorrow" that showcases the latest innovations in robotics, automation and connectivity, as well as cutting-edge manufacturing technologies. Sponsored by Banner Engineering and Weidmüller, the video series comes in three parts and focuses entirely on advancements in industrial automation. The first of three videos in the series, "Manufacturing at the Edge," is now live on Digi-Key's website, and available in all local languages served. The second video, entitled "The Rise of Robotics," will be released in August, and the third video, "The Intersection of AI and IoT," will be available in September.
Talking about the "Factory Tomorrow" video series, Robbie Paul, the director of IoT business solutions at Digi-Key said, "Growth and investment in industrial automation and digitized systems are the new normal and Digi-Key is committed to helping our customers keep pace with today's ever-changing business landscape."
Furthermore, Banner Engineering's director of business development - industrial wireless and IIoT, Matt Negaard added, "The advancement of Industry 4.0 and IIoT is an exciting time for our customers who, every day, deploy our products to transform their operations, increase their profitability and accelerate their ability to connect to valuable data on both new and legacy systems, regardless of their industry."
In the first episode, the rise of edge computing is the key focus. Bringing complex technologies like machine learning to the point of data capture, enabling faster and more responsive reactions to the data generated by sensors across the factory floor is what the entire first episode is based on.
The second episode of the series focuses on the rise of robotics in the manufacturing industry and how new designs collaborate alongside human workers on the factory floor to create new, high-quality job opportunities across the industry.
The third episode however is about the Intersection of AI and IoT. The episode is all about how artificial intelligence applications can unlock the true potential of IoT applications. From real-time analytics to connected sensors, predictive maintenance, and supply chain automation, this combination of technologies is a massive step forward for the industry as a whole.