Published
September 24, 2021
0
Anycubic Photon Ultra is an affordable Digital Light Processing printer developed collaboratively by Anycubic and Texas Instruments to deliver professional-grade accuracy. Offering high resolution printing effect, durability, energy saving features, this new printer promises one of the best overall 3D printing experiences for the desktop 3-D printer Industry.
What is DLP printing and how it compares to other technologies?
DLP or Digital Light Processing Technology is a 3D printing technology where the photopolymers are exposed to light from the DLP projector under safe light conditions. The layer of photopolymers exposed to the light gets hardened forming the shape of projected light and the build-plate moves down, thereafter which the subsequent layer's shape is projected on the polymer. This process is repeated again and again to create a complete 3D model.  The DLP printing process is faster than both the Stereolithography Apparatus (SLA 3D printers) and fused deposit machine (FDM). While DLP and SLA use resins and print in layers, the FDM uses filaments and is the most popular type amongst the hobbyist and maker community for creating 3D models. The image below compares the print quality from Anycubic's 3D printer with DLP and LCD screens.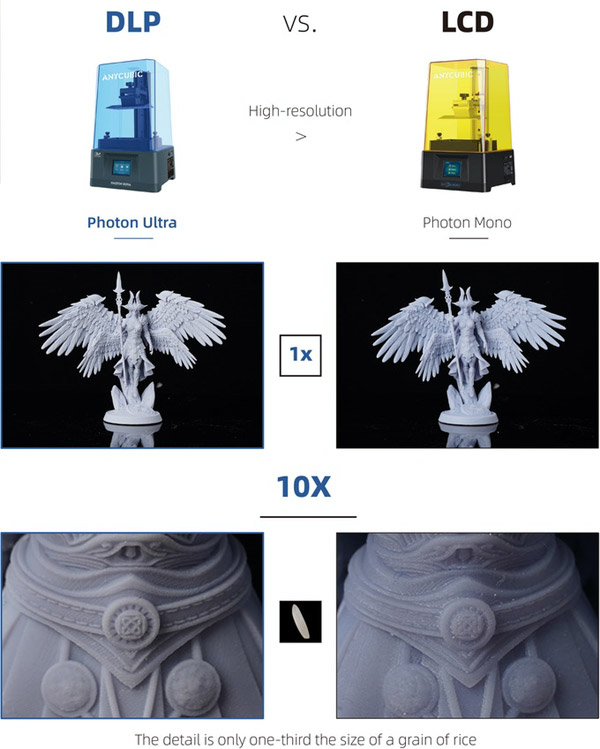 Key Features of Anycubic Photon Ultra
The Anycubic's Photon Ultra comes with amazing features. The DLP technology has always been superior to its counterparts but the cost makes it inaccessible to desktop 3D printing market. This product can be a game changer with the following features:
Fast and High-Quality Printing
The printer is capable of printing a layer in just 1.5 seconds. It features a high precision light source with resolution rated at 720p. While not sounding as impressive, the company claims that the quality of print is better than produced by machines employing monochrome LCD screens with resolutions as high as 4K.
Affordable and low maintenance
The Photon Ultra is listed for $599 on the Kickstarter campaign page, with a $100 early discount to first 2000 customers. The company also claims that the product requires low to no maintenance and the DLP projectors will serve you for more than 20,000 hours of usage, compared to just 2000 hours of lifespan offered by the models having LCD screens.
Energy-Efficient and Quiet Operation
This 3D printer operates at 40% light efficiency thus eliminating the requirement of fans for cooling, making the operation quieter.  
Apart from the above-mentioned features, the printer also offers a touch-screen with a user-friendly interface, adjustable UV power which makes it compatible with wide range of raisins and a laser engraved print bed for improved platform adhesion for better stability thus providing higher quality prints. So, if you would like to know more about this product, then visit the Kickstarter page or visit Anycubic's website to learn more about their other products.