Yuki Sato is the Founder and CEO of Cambrian Robotics Inc., which is based out of Tokyo. He has been into computers and electronics right from the age of 10 and has equipped himself with a handful of multidisciplinary skills. He and his company Cambrian Robotics are working on bridging the gap between technology and developers by building development tools and kits. He is currently working on an IOT development tool called Obniz which has earned a huge support through his kick-starter campaign and has already successfully found its place into the market. Apart from being an Engineer Yuki Sato has also practiced to be a comedian at a school in Japan. We got a chance to put forward some questions to this intriguing personality and this is what he had to answer for us.
What inspired you to start Cambrian Robotics? How was your transition from being an engineer to becoming a founder?
I feel many people who want to build something, but then development is so hard. It's too complicated for even just turning on a LED from a Smartphone. So I started my company. I have always been an engineer and founder, so there is no difference between them for me.
What problems does Cambrian Robotics intend to solve? What are your upcoming plans for the company?
Company's current project Obniz allows people to access hardware via the internet by a clearly-defined API. It let people to make things easily. For example, People can directly use it through JavaScript in a HTML. So it doesn't require development environment. And Obniz is already internet connected. Even turning on a LED is done through the internet. We are trying to solve the difficulties on building internet connected things. Now our product is only Obniz board. But we are going to make a tools/kit especially for beginners.
Its overwhelming to see that you can work on various platforms. Like FPGA, RaspberryPi, Eagle, Xbee, PIC, dsPIC, STM32 to name a few. How did you manage to learn all of them? 
There are so many magazines that are treating new technologies in Japan. It is easy to notice a new platform and then learning it is not so hard.  Once a man learns about one platform, then he will learn a new platform with a very few learning costs. Because there are many common things with all the platforms. And I love learning. I can't stop it.
Apart from your expertise over circuit designing you have also created mobile applications for Android and IOS. And have also opted for a mechanical engineering degree. How do manage to be multi-disciplinary?
I entered a University to learn mechanical engineering because it seems hard to learn myself. Before entering, I already have learned electronics and computers by myself. I and even you can access the internet. So, Today, We can learn as much as we wish. For me, iOS and hardware and circuit designing are same thing. It's just "technology".
We are excited about your new IOT Development Hardware Obniz! Tell us about it and how it will help the DIY enthusiasts / Developers out here?
Obniz is clearly different compared with other boards. A program runs on not obniz. People can access an obniz and control it via the internet from their program. When you want to make a robot controllable via the internet, you should make (1) firmware (2) communication program in firmware (3) definition of communication (4) inter two machine handshake system (5) other side program which control a robot. It's too complicated. With obniz, people can ignore (2)(3)(4). And (1) and (5) becomes a single program. See HTML example.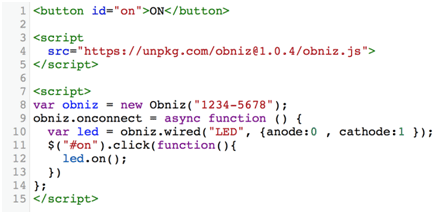 You can ignore communications.
By using obniz.js, sdk for javascript, people can use obniz and it's ios as if simple object in javascript. Easy to collaborate HTML parts and hardwares. It allows people to make internet connected things more easily. And also works everywhere. It doesn't require development tools. Just an editor and a browser is needed.
You can also use obniz with machine learning like Tensorflow.js ( https://obniz.io/explore/36 ) and you are also free to use sensors on a smartphone like this example ( https://obniz.io/explore/26 ).
We used Pose net with Tensorflow.js to control a puppet through smart phone as shown below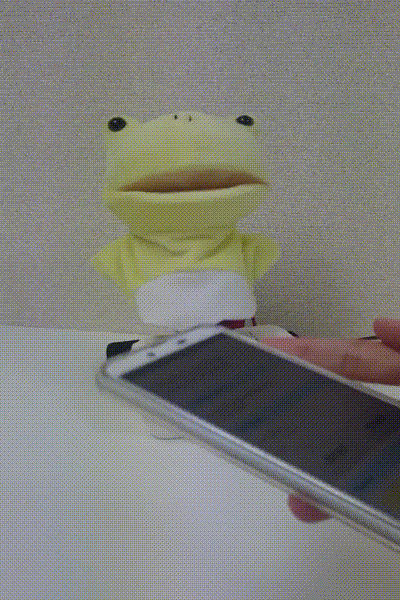 Since Obniz can make use of Phone sensors it can leverage the accelerometer and gyroscope present inside our mobile phone to control external applications like this robot car shown below.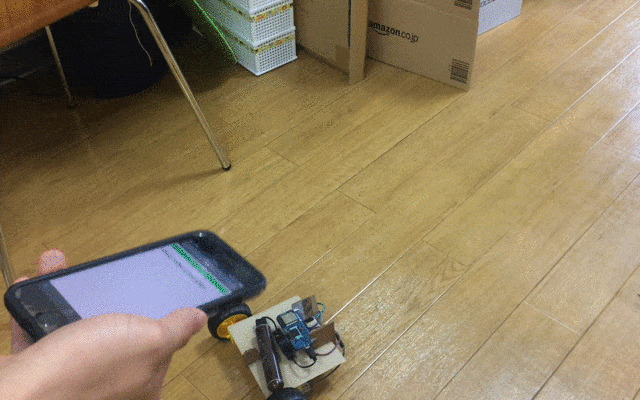 Obniz has been chosen as one of the top 5 start-ups by TechinAsia, how do you feel about it?
We are surprised. But nowadays, combining two or more region technologies tend to be focused. Like "AI and car" "food and internet". Our product is "Web and hardware". Possibly our product tends to be focused.
You have launched Obniz by raising more than 15k USD through kick-starter campaign, what would be your word of advice to people who are interested in starting a kick-starter campaign?
"Just start now" seems good. Supporters will answer your product as funds. If the answer is "not good". Easily, you can try again as possible as you can. There is nothing to loose in crowd funding.
Are kick-starter campaigns advisable to launch a tech product? What are the pros and cons with it?
Good point is you can reach more customers. If a person launch owned EC store, How many people visit it? Kick-starter is good for beginners. Its page will be visited by people all over the world. Because of that many people watch it. You can test if your idea is good or not before you start selling. But it takes time. You should spend more time with creating kick-starter campaign page and video.
What was the reason behind developing Obniz? How will it differ from the existing IOT development tools such as ESP32?
If you were a special engineer who can make circuit, firmware, internet communication, cloud system, then maybe you can do same thing with ESP32. With obniz, by just making a simple HTML, you can start IoT development. It helps many people even beginners.
What is your favorite hardware/programming tool to work with and why?
ARM architecture is my favour. Its design is beautiful, and also development tool is good.
What is your view on IOT? Do you see any potential threats to mankind due to the rapidly advancing technology?
I believe technology is always good for mankind.  IoT is understandable trends. Because Wifi and LTE is almost everywhere. There are so many machines. There are no reasons the machine should not be connected the internet.
How does your work environment look like?
This is taken today.
After being a CEO/founder of a company do you still find time to code or experiment on new hardware?
Yes. Because, I need to make obniz parts library. To do that, I buy and use new parts more than before. But hardwares such as can't be connected to an obniz.
When was the last time you designed a circuit?
I'm improving obniz circuit. And I make obniz examples. So Now I am still designing.
As a Techie and a Founder of a company, how do you manage time and personnel lifestyle? 
I keep weekends. Sunday and Monday I don't do work. I spend the time with my wife and daughter.
Tell us about your team and how you built it?
Kido is a friend of mine since University. We made "papelook" together. And other members from our website "we are searching part-time jobber".
What are the pros and cons of running a Tech company like Cambrian Robotics in Tokyo?
There are so many University. It's not hard to find a person who has good skills for lower payment.
And access through Trains, Bus is good.
But there are few investors compared with U.S.
What would be your word of advice for upcoming aspiring technopreneur?
"Just do it". The cost to start is very low for even a hardware start-up.