Rahul Kednurkar is the VP-Business Development of SenseGiz, with a Bachelor's Degree on Industrial Production, and takes the responsibility for charting the go-to-market factors and planning market/business strategies for SenseGiz.
Incorporated in 2013 at Belgaum, SenseGiz has been making enterprise and industrial IoT products for sensor based condition monitoring, security and real time asset/people tracking applications. Recently, the company's signature product COIN grabbed our attention, this candy sized device powered by a CR2477 lithium cell has a Temperature, Humidity and Vibration sensor inside it and is also connected to the could through IoT. Like an army of ants these tiny devices can be scattered over a large workspace to connect with each other forming a mesh network, to monitor and analyze people or assets. Adding to this, these devices can go upto 2 years without having to replace its battery. Thrilled by its abilities, we approached Rahul with few questions for which he was kind enough to give the following answers.
What inspired to start SenseGiz Connected devices? How did it initially get off the ground?
Once in 2011, Abhishek (Founder) had to take a train at London. He boarded the train, placed the luggage in the compartment and got off it to beat the boredom. By the time he re-boarded the train, the cops had come in on a routine check, noticed the unattended baggage and took it away and put it in lost and found center. That was when Abhishek contemplated a venture in lost and found space.
With just about 5 years since inception, we have developed a series of products. In fact we are very proud of repeatedly selling our previous generation of IoT products successfully in the US, Japan and several other countries over the last 3 years. We are also proud of the fact that all our products are designed, developed and manufactured in India for the world. We have an in-house team of engineers to design and develop these products. So far we have one patent granted for our product in India and also in the US, and we have filed 4 more patents for our new technology.
What problem does SenseGiz intend to solve? What are its products and services?
We did a primary and secondary research and spoke to various customers and stake holders and found out that:
Around USD 680 bn were lost per year due to improper storage of food, goods and various assets
About 300 hours per year per employee were lost per year just to track assets in manufacturing units and warehouses, and
Approx USD 14 bn were lost per year due to illegal intrusion.
With these in mind, our team started working on this problem for around 8 to 10 months and in 2018 we came up with a solution using which:
Storage losses were reduced by 50%
Reduction in asset tracking time was reduced by 70%
Efficiency of the employees was increased by 50%, and
And with a payback period of 10 to 14 months.
Through our product solution COIN, we have created a proprietary low powered point to point mesh network of tiny low-cost sensor nodes. The mesh network is based on top of Bluetooth 5.0 and has an effective communication speed of 1 Mbps, suitable for high speed and high data applications with self-learning and self-healing capabilities.
Using our solution, hundreds or thousands of assets and people can be tracked in real time in a given workplace such as a shop floor, manufacturing unit or warehouse etc.  Also, geofencing can be set to make sure that the assets do not enter or leave the assigned areas. The complete activities can be seen and can be controlled in real time on our dashboard.
Each Coin sensor has a temperature, humidity, motion and vibration sensor on-board. All these together enable each Coin to perform multiple tasks based on the customer's choosing. One can also use this to monitor condition of any assets such as vibration. The Coin nodes are fully customizable by the user/admin from the cloud. One can either set thresholds or get alerts by multiple means if those have crossed, or set up user defined data streaming intervals (suited for enterprise applications). 
How many such COIN devices can be connected together? What is their proximity with Wi-Fi Gateway?
There are no limitations as such, however one gateway can connect upto 100 COINs. One can have multiple gateways and any number of COINs connected to one another. Each COIN has an effective range of 150 feet per node. COIN to Gateway communication happens over bluetooth and the effective range between them is 150 feet. Our long range wireless gateway has WiFi and Bluetooth embedded to make communication with server and other COIN devices. We also provide Ethernet gateway in case customer prefers to use them. Ethernet gateways are more convenient for remote location where WiFi connections are unavailable. 
Despite of having a handful of sensors and the ability to connect to the internet, the COIN is powered only by a CR2477 lithium cell. How long will the battery last?
The battery lasts upto 1-2 years. It again depends on the how COINs are configured. One can set threshold intervals, a higher and a lower one where the alert is generated only when the threshold is crossed or stream data at regular interval of time. 
We have other versions of COINs which is powered by external power supply and D type batteries. With the D types batteries, COIN  can now last upto 3-4 years. 
COIN uses the industry's leading 32-bit ARM Cortex M3 Processor, what are the other platforms or tools around which SenseGiz products are built on?
On the hardware side COIN has Powerful ARM® Cortex®-M3 with 128kB of in system programmable flash and 8kB of SRAM, 2.4-GHz RF Transceiver Compatible with Bluetooth Low Energy (BLE) 4.2 Specification and IEEE 802.15.4 PHY and MAC, AES-128 Security Module, UART, ECOPACK®, RoHS and "Green" compliant, 2× SSI (SPI, MICROWIRE, TI). 
On the cloud side, AWS hosting with Ubuntu 14.04 Os, Programming language-PHP (Slim PHP framework-2),  LAMPP environment to run PHP project, PostgreSQL database-Which will come with LAMPP, phpMqtt as a client. eMQTT-It is a MQTT broker to handle commands between Gateway and clients, Web panel frontend coded using HTML5, CSS3, Jquery.
 
What impact has SenseGiz brought to its customers through its products? Can you share us a scenario?
We would like to share few case studies here:
1. Predictive Maintenance
A Government organization that supplies electricity to the city wanted to do the predictive maintenance of transformers and to obtain alerts before any failure.
COINs were placed on the transformers and fins to monitor the temperature and vibrations. Here we do predictive maintenance before the failure occurs. Different thresholds were set so that the management gets an alert when the temperature and vibration crosses set threshold values and take immediate action. COINs can also work when dipped completely inside the oil.
2. Real-time Asset and People tracking
An enterprise with 1.5 lakh sq. ft. workspace wanted an alert and pin point location whenever a forklift vehicle bumps into the racks while material handling.The enterprise also needed to monitor the pin point location of its 1000+ employees which would help them at the time of emergency situations. Also, food stored in the warehouse was getting damaged due to abrupt temperature variations and the inability of the enterprise to record it correctly.
A Large number of coins were installed at certain locations on the racks. Whenever an incident occurs, coin detects vibrations and sends real time data to the user. Additionally, SAFRs worn by employees helped the enterprise monitor their pin point location. Temperature sensor in our coins send real time data from various warehouse locations and helps the enterprise to keep a record and find actual reason for these temperature variations.
3. Perimeter Security
A government organization wanted real time data on trespassing and intrusion activity in an area where no person was allowed. The entire perimeter was to be covered against such activities and hence the solution was required to be very cost effective and efficient. The organization also demanded no false alarms due to rains, winds etc. The perimeter was covered with our Coins. Sensors in the coin would detect intrusion activity and send real time notification to its users, which helped them take appropriate action. Hence a perfect fit in such cases.
Due to its small size, the coin is not visible to the intruders. Real time data analysis can distinguish between humans (walking, running, crawling or tunneling) and other objects like vehicles, animals, etc.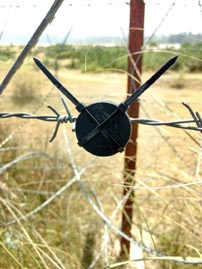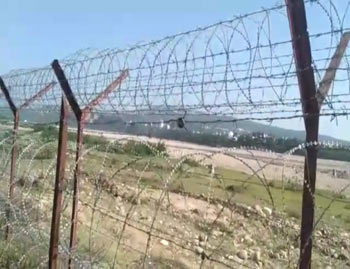 SenseGiz has won the Indian National Entrepreneurship award for 2017 and Cisco's LaunchPad best start-up award, how does the company feel about it and how was it achieved?
It feels great to win prestigious awards like Indian National Entrepreneurship Award from Govt of India and CISCO Launchpad award. It surely gives a lot of encouragement to the entire team to work harder and get more products and solutions rolling. The technical team is greatly benefited in terms of motivation and support. It also puts us on the global map of visibility and helps us gain the customer's trust.
Apart from NEAS and Cisco award, we are chosen as one of the iconic IoT start-ups under the NASSCOM – Govt of India IoT Centre of Excellence and received most promising IoT startup award by IESA. Recently we have also won the defEnnovation Award in the MSME Category at ELCINA Strategic Electronics Summit 2018. Recently we were the winners of IoT India Congress-2018 Top Start up Awards. 
Security is considered to be a threat for IoT products, how does SenseGiz tackle with it?
Security is handled in 3 parts- 128 bit AES encryption for device to device communication, secure MQTT connection with 2 factor authentication for device to cloud and vice versa and industry standard security for the data stored on the cloud. We are compliant with the security norms of various countries and working with well known customers have helped us maintain the highest standards. 
Tell us about the team in SenseGiz and its workspace
Currently, our company is a team of 18, spread across engineering, sales, marketing and admin roles with all products designed in-house. We have the R&D centre in Belgaum, where our technical team is placed; Bangalore from where our business development team operates. We have an office in San Francisco.
SenseGiz has its R&D and manufacturing base in India? What are the pros and cons of it?
Yes, we have our R&D centre in Belgaum. All our products are designed, developed and manufactured in India. We are strong believer in the Make in India initiative. Pros of having a manufacturing unit in India are lesser turnaround time as compared to foreign manufacturing units. Skilled engineers are available for product development in India, which is crucial. We are not giving our IP outside India.
Cons being, the manufacturing lead time is lesser in some countries as compared to India. The production cost is less in South East Asian Countries.  
What is your view on Industry 4.0? Is India's ecosystem Ready for it?
Industry 4.0 is the next big thing. It will increase flexibility in manufacturing, along with mass customization, better quality, and improved productivity. It thus enables companies to cope with the challenges of producing increasingly individualized products with a short lead-time to market and higher quality. Intelligent manufacturing plays an important role in Industry 4.0. Typical resources are converted into intelligent objects so that they are able to sense, act, and behave within a smart environment.
We feel India is ready for Industry 4.0. We can see people adopting latest technologies right from tracking, real time asset monitoring, robotics, intelligent manufacturing etc. India has now been ranked sixth among the world's 10 largest manufacturing countries. India is no exception to this global trend and is steadily increasing its share of Global Manufacturing. All leading countries are embarking on major initiatives to promote manufacturing by adopting the advancements in Internet and Information Technology arenas.
What is the biggest challenge faced by SenseGiz while developing an IoT based hardware? Where are we lagging?
As this was a new technology, creating a low power mesh of sensors was our biggest challenge for this project. We had to build our own proprietary mesh network which allows point to point communication between any two COINS even if far out of range. The mesh also supports sensor payload data and is thus much more robust than any other mesh network built for BLE. We used all of our experience of making Bluetooth low energy products to overcome this challenge. The next challenge was to take this to mass production. As we already have experience of doing this for our earlier products, we were confident that we will be able to overcome this challenge and we did so.
How can the budding engineers set themselves prepared for the upcoming IoT wave?
They need to educate themselves with the right tools. There is a big gap between what the market needs and what is being taught in the institutions. For instance, while IoT is proving to be the next growth driver for the industry, the curriculum does not reflect it. There are so many startups that are into IoT, budding engineers must try to get internship in these startups to get hands-on on what skill and knowledge etc is actually required.
What would be your word of advice to budding aspiring technopreneurs?
Be different! They must posses problem solving skills and must look at an issue from the solution point of view rather than considering it as a problem. Some people like challenges; it excites and motivates them. I would advise them to consider the burning issues at the moment and solve them. That way a task is accomplished and a sense of achievement is gained; which in turn pushes them to do more. They need to be motivated enough to innovate.