In recent times, Artificial Intelligence has gained momentum, and the need to develop more holistic platforms and solutions that automate business intelligence and analytics processes is the need of the hour. Various companies are making use of machine algorithms to identify trends and insights of their vast data, thereby making faster decisions that potentially position them to be competitive in real-time.
AIOTIZE is a company that is working closely towards Artificial Intelligence and Machine Learning to provide business intelligence for enterprises and governments. The company applies a layer of analytics through their proprietary cloud-based AI Engine - Cognixa. Curious to know about the company, its drone automation concept, propriety AI engine, and how their solutions drive down costs, increase accuracy, improve safety and reliability; we sat down with the CEO and founder of the company, Shivansh Sethi, and asked him a few questions.
Q. Can you tell us about the type of solutions and products offered by AIOTIZE, what kind of problems does the company aim to solve?
The name of our company, AIOTIZE implies AI (Artificial Intelligence), and IoT (Internet of Things). We are applying IoT, AI, and deep technologies in making the consumers' life simpler. We are currently dealing with B2B solutions. There are three domains in which we operate right now, which are robotics, IoT, and data science. Data science includes AI, machine learning, neurons, and transfer learning concepts. In IoT, we do sensor integration, we deploy different sensors onto the production areas of our clients, or it can be any manufacturing unit, logistics, products, vehicles, or whatever you need to track. All those sensors integration with our platform comes as a package under IoT. The adoption rate of AI is very low in India and due to the conventional mindset of our clients whom we deal with, we put across a lot of automation onto our client, and they are very much happy with it, but we're still exploring what else can we do as a value add for our clients because that's what matters. The main task is execution and maintenance.
Q. AIOTIZE has a drone automation platform called IOX, can you enlighten us with its role and implementations?
Our drone automation system scans the gas pipeline leakages and bends that could be very much dangerous. We have made an indigenous drone system. The AI system is also developed by our team. The amalgamation of these technologies gives out a very good value to the client's production area. This makes it safer, reliable, and affordable. Moreover, the accuracy ranges from 80 to 85%. It's a self-evolutionary model. It learns from its past cases, whatever it has dealt with and those experiences are then transferred on to taking some autonomous decisions.
In case of public events, public gatherings, or the mass protests like Kisan Andolan in Delhi; these solutions could be very beneficial for law enforcement agencies as well as private stakeholders who are organizing the event because it can also track the body language. It checks the body language of a particular subject and reports back to the control station. We can calculate density, speed and we can generate heat maps according to it. The second aspect is security and safety, and the third is monitoring and surveillance. Single technology can serve up to multiple purposes of a client.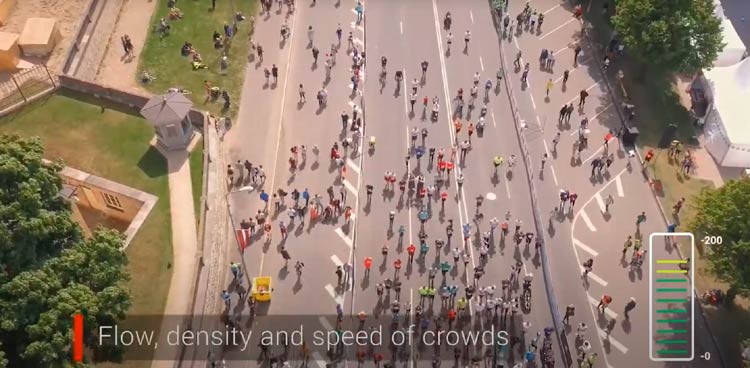 In the case of a railway track line, if there are rail bends that disintegrate due to churning and regress movement of trains on it; we need to make sure that these are intact because our clients hold private rail lines. We are making a system for them where these cracks could be monitored, and surveillance could be done to minimize the workforce involvement because every two or three hours, people who have been assigned the task have to patrol these areas and check for the cracks or dents or any abnormalities in the structure which is a very tedious task. If a rail line is 80 kilometers long and you have a flying camera that can give you the video of 40-45 km ahead route, that's a big novelty. These are infrastructures that can be scanned and surveyed for checking damages if any.
Besides, these solutions can be used in the case of pandemics, natural calamities like earthquakes, hurricanes, and floods. The damage percentage is calculated on its own and the same is communicated to the nearby relief teams that can reach the site and focus on that particular site rather than going here and there haphazardly. The teams usually comprise of half of our employees and half of our client's employees, because sometimes decisions have to be made on the spot.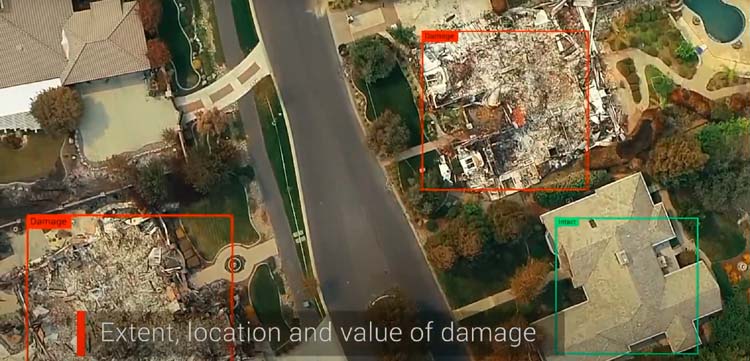 Using our drone, we can calculate the body temperature of any subject. For example, if a person comes with a temperature higher than 37 degrees Celsius, the nearby health authorities or security guards would be intimidated. As far as the payload is concerned, we develop our drones, we have our frame, and the whole system is designed in such a way that it is not dependent on any third party. In the beta version, we come to know how many containers it has scanned and all the other business insights can be put there according to the client's requirement. We calculate the container health for our client because that might help in insurance claims.
There are infrared analytics too for night operations. We have sensors or cameras that make the drones autonomous. That is called the robotic operating system (ROS). It's a set of libraries and code which are used to develop the system and is independent of any GPS coordinates or any other external dependency.
Another example could be to capture the vehicle's license plate. For this, model one can be selected. The management settings include public IP port and this information is usually given by the IT department and the video starts streaming. We also have a library for people to refer back in case of any dispute regarding any particular services.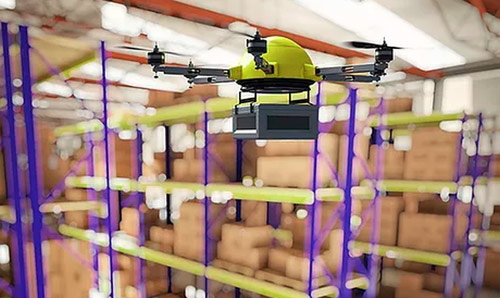 Besides this, our drones can be used in yard supervision that we do for our clients. The assets which our client holds are very valuable. If a small misalignment happens, this claim would fall off and the company will have to bear huge losses. We provide real-time analytics to our clients.
Q. Can you throw some light on the applications and working of the AI Engine "Cognixa" developed by AIOTIZE?
We have two products – IOX and Cognixa that can work as standalone systems as well. We can customize them according to the client's requirement and we tailor-make solutions. IOX is a drone automation platform, which can be used for automated flight or for collecting data, serving anything, and if analytics have to be applied on it in real-time, then we combine their analytics.
Q. For all the data collection, you have been using drones and rovers, according to you which is the best option for data collection?
There are a lot of business insights, which are required for growth hacking or taking a business to the next level. If we know what is the purchase history or purchasing behavior of the particular person who is standing there, the offerings could be customized, the prices could be customized, you can target your clients who are loyal in a better way. Whenever a person reaches near the storefront, he or she will receive a message on the phone telling him/her about the offer that is going on in this particular store/restaurant. For that, we collect the customer data. That's how data analytics happen, and valuable insights are provided to the client.
Q. As the company is working on business solutions using AI and ML what kind of technology and platform do you use to build your solutions? 
My personal favorite is AWS; the people are very much helpful. If any newcomer wants to dive into the ecosystem, he/she can talk to AWS, NVIDIA, IBM, Oracle. They provide you a lot of resources free of cost if you are genuine enough to prove your concept. We received almost a hundred thousand dollars from Amazon to test our platform and build it.
Q. What are the other challenges that AIOTIZE faces when developing and deploying a solution? How do you tackle them?
There is a lack of appetite in India for solutions like these, because we are not adapted to machinery working, and we are not comfortable with that as much as Eastern countries are. People in Eastern countries have grown themselves up to an extent where the government is also aiding them in establishing their businesses. We also get the support, but comparatively, we have to adhere to the rules, we have to go through many licensing processes; this adds to the burden. We have to tell the authorities about our route, where will the package being dropped, which drone we are using. There are a lot of important compliances, but nothing or very little is being done to enforce that successfully, and that is the pain point for us.
Q. In recent times, AI and Data Analytics are gaining a lot of traction, how do you see the future and market for this industry?
There is an exponential rise in the requirements of the clients. Our purpose is to provide our clients with automation, as well as business intelligence. These two value additions are given by us and we use different technologies for that. The prospects of technology are huge. There's a lot of quantum computing going on right now. IBM, for example, has developed storage space on a single atom. Amazon has patented a technology where they can store their goods underwater and underwater warehouses have been started as a concept, they've got a patent for it and they might start it anytime soon. There can be some shortcomings due to pandemics in India, and there is a lot of friction in the conventional mindset of our clients and to change that is a major concern.
Q. What are the products/solutions on which AIOTIZE is currently working on and what are your plans for the company in near future?
We work on the B2B model. Right now, we are only dealing with the logistics industry, but we are planning to expand. We are developing a universal system where we just tweak the system according to the requirements and deploy it as a separate instance for the client. We want to build a kind of ecosystem where the client's involvement and investment of time are as minimum as possible because everything could be monitored sitting anywhere in the globe. We plan to implement 5G on our drones. Also, we plan to do something with SATCOM. Probably, that can be implemented and we are testing out some new models as well.