Following the venture of LAVA International - a fast growing Indian Mobile handset company, Mr.Vishal Sehgal has stepped in as the co-founder and Managing Director of Ottomate International. A company working to make life convenient and comfortable by re-inventing traditional home appliances making it autonomous, connected and engaging. The company has recently launched its Ottomate smart fans which have built in sensors to automatically change the fan speed based on room temperature. Drawn by its features and capabilities CircuitDigest approached Ottomate with few questions to know more about Ottomoate for which the company's marketing DGM Mr. Puravansh, responded with the following
1. What is the inspiration behind Ottomate? What type of products can be expected from Ottomate?
Our Founder Mr. Vishal who is also the founder of Lava International, which is a billion dollar Phone manufacturing company in India, realized that the technological development with Phones, TVs and Tablets are happening very fast around us. But, the electrical appliances in our home like Fans, Lights, and Geysers etc are not yet that engaging and smart enough because the technology here has not evolved much in the recent years.
To address this problem Ottomate was launched to provide smart home devices and appliances. By leveraging our background in electronics and deep relationships with leading chip manufacturers like Qualcomm, Texas Instruments etc the company has already gone live on March 2019 with first product being a Smart Fan. We also have other home appliances in our pipeline and can be expected to be launched soon.  
2. What problems does the company aim to solve? Is the adaption of Ottomate products easy?
Our aim is to make the traditional home appliances smart by connecting the entire home on your mobile phone so that they can be controlled form one device. Installing Ottomate products will be simple as you don't have to do your wiring again or change anything on your switch panel. Also, since our products work on BLE Mesh technology they also do not need to need Wi-Fi Routers.
All our products can be controlled through our mobile application and as new products are purchased and installed they will be automatically connected to the same application eventually allowing the user to control all our products from a single application.
3. It is futuristic to know that Ottomate fans could control their speed based on the room temperature and humidity in Ottomate Mode. How does it actually work? 
Our fans have a special mode called "Otto Mode" in which the fan measurers the temperature and humidity present in the room and changes its speed accordingly. As would have realized that temperature variations happen throughout the day, days are hot and nights are cold. We might have also come across the annoying necessity to slow down our fans or catch a blanket early in the morning since the temperature would have gone down from what it was in the night.  To address this problem Ottomate has introduced automatic speed control technology.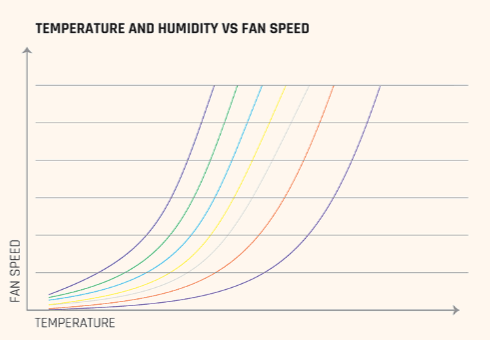 The Fan Measures the Temperature and Humidity value in the room by using its in-built sensors and then using the algorithm developed by our R&D engineers the fan determines the optimum speed for that temperature and humidity level and adjusts its speed accordingly.
4. The Fan utilizes a 14 Pole High Torque motor for greater air delivery, what is the typical wattage rating of these motor? Do these fans consume more electricity than the conventional fans and what about its lifespan?
No, Ottomoate Fans do not consume more electricity than Traditional fans. Most fans out there consume about 70 to 80 Watts power and ottomate fans are also rated for 75 Watts. Also we are in plans to launch an energy efficient series in the month of June this year. Speaking about Lifespan the fans come with 2 year warranty, just like any other fan in the market. And we expect its life for about 5 to 10 years easily.
5. With the IoT wave hitting in, why did Ottomate decide to use Bluetooth over Wi-Fi for their Fans? What is the advantage of having a Bluetooth 5 Mesh Network?
All Ottomate products will work on BLE 5.0 Mesh Technology. We realized that most of the home appliances are operated within the home which does not need Wi-Fi also by this way we can eliminate the extra cost of router installation. Bluetooth 5.0 has very significant range that could cut across through three floors in a multistory home and across multiple walls.
The advantage of having a Mesh network is that, all the Ottomoate products are connected together capable exchanging information among them. This way the user just has to be in range of any one of our product and still he can access any of them since they all are interconnected. If the user wishes to control his appliances outside from his home, he can use our cost effective BLE to Wi-Fi converter to connect all the appliances to the internet through his Wi-Fi Router.
6. What is My Air Technology and how does it work?
Normal fans come with 5 speed mechanical regulators which allow the user to have only five speed levels. In Ottomate fans the speed is controlled by solid state devices like MOSFETs which provides the user with multiple speed levels. The air delivery of our fan can be adjusted to very minute level by adjusting the slider on our application.  The ability to have a fine control on speed is what we called the My Air Technology.
7. With the Power Quality issues in India, how does Ottomate Fans overcome the Voltage stabilization Problems?
To deal with Power Quality issues we are using the Voltage converters from ST Microelectronics which comes with in-built Voltage Stabilizers. The Voltage is run though a dummy circuit to check for fulminations before it reaches the motor and control circuitry. This work is taken care by the Voltage Stabilization chip.
8. What is the reason behind choosing the Qualcomm CSR1020 processors for the Smart Fans? 
The CSR1020 processor chipset from Qualcomm supports ultra low power Bluetooth 5.0 Technology with Mesh Connectivity. Since all Ottomate Fans have to be connected to the BLE Mesh network the processor would ideally suit our designs.
9. Being a complete made in India product, Where do you source all your electronic components from?
Ottomate is a completely made in India product. We have two plants, one in Himachal and the other one in Rishikesh. We have a good relationship with Qualcomm, ST, Toshiba etc. who are our suppliers for Ottomate. Since LAVA already was working closely with these suppliers it was easy to set-up the supply chian for Ottomate.
10. Apart from Smart Fans, what are the other Products that Ottomate is current working on? 
Currently we are also working on Lights, Security Sysetms and Geysers. In another two to three years down the line you can expect more larger appliances from Ottomate.