The electronics manufacturing eco-system in India, is in its nascent stage and still has voids left to fill. The PCB Manufacturing Market, in India alone, was estimated to be around 2.7 billion dollars in 2019 and is expected to witness strong growth with the fast-growing consumer electronics market in India. When Designers and OEMs outsource PCB fabrication to overseas it leads to extended lead time and additional fright costs making it a less feasible solution. Understanding these in-depth problems in PCB manufacturing system and knowing how to solve them, Mr. Murali Srinivasa took a firm decision to leave his full-time job at Texas Instruments in Bay Area, shifted to India and started his company by the name Lion Circuits. Started in 2017, Lion Circuits aims to support PCB manufacturing from Prototype to Production, today you can use Lion Circuits for PCB fabrication, PCB assembly and even for component sourcing. 
To get a better understanding of the company and know how the entire process works, how affordable, faster, and reliable manufacturing service from Lion Circuits makes electronic manufacturing easy and seamless, we sat down with the CEO of the company, Mr. Murali, and asked him a few questions. It was an interesting and inquisitive session. Curious to know what all Lion Circuits have in store for all your electronic manufactures, hobbyists, and makers? Scroll down to read.
Q. Tell us about Lion Circuits, how did the journey start and how has the company progressed over these years?
It's been an amazing journey with Lion Circuits. While working with Texas Instruments in Bay Area, I had to travel to different countries for visiting different factories all around the world, and when we started seeing those factories, and how they operate and compared the same with how Indian factories are operated. We did some market research and found out that there are a lot of gaps in the Indian manufacturing electronics ecosystem. Thereafter, we launched the experimental website back in July 2016. I quit my job in the valley and moved back to India to do this full time. We had enough confidence that this is a problem to solve. We started operations in India in 2017. It took about one year for us to have the factory up and running. In parallel, we built our different platform automation for making it easier for customers to order on our platform. That's how we began Lion Circuits.
Q. What kind of fabrication facilities do Lion Circuits have? Can you brief on the process that each PCB goes through at Lion Circuits after an order is placed by the designer?
After an order is placed on the platform, the very first step of the fabrication process i.e, the drilling takes place. After all the pre-engineering work is done, the circuit boards in the copper-clad are cut. Once, the board cutting happens, it goes to various stages. There are about 15 to 20 different stages for two-layer and then a few additional steps for a multi-layer board.
It's a very high level of drilling that takes place after which it goes through various photo etching stages. Thereafter, it goes through masking electrical testing on a flame protester, and then goes to a routing stage where it is automatically routed for different operating units, and then packing, inspection, and shipping is done.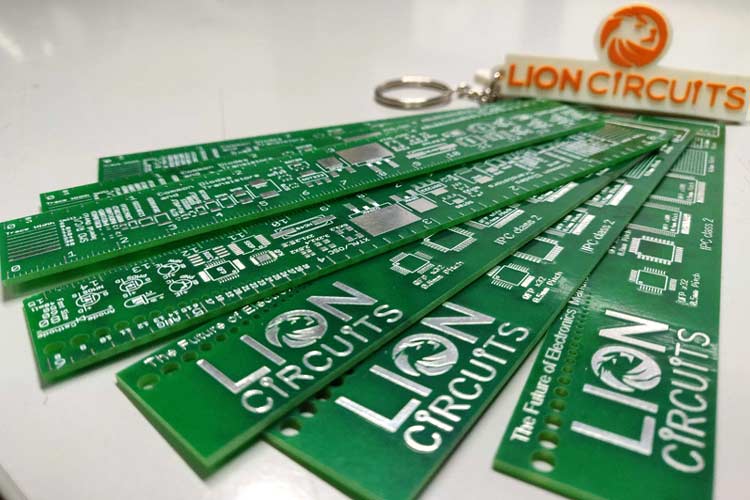 This is just for circuit board manufacturing. Once the bare boards are manufactured, if a customer has also ordered for assembly, we sort bare board shipping and assembly processes, and then it goes to the assembly stage. In the assembly stage, depending on whether it's proto units or production volumes, depending on the process that is chosen by the customer (manual or automatic); we segregate the boards and then pick the place and the manual scrolling takes place. Once the scrolling is done, we have our own AI-based optical inspection machine that we have developed. It goes through those inspection processes and finally, the shipment is done. So that's the typical process before we ship the boards.
Q. What were the difficulties you faced when you started? How did you scale up? Did you gradually increase your production and machinery capacity or did you start with everything together?
We had to go to the factories in the UK to iron out some of the machinery, put them in the container, and bring them to India. We had to deal with the custom record issues at the Chennai port. It was a kind of adventurous journey to finalize some of these machines and getting it landed and safely getting these machines onto the factory floor was a challenge. Doing that first time without any background in this field was a major challenge. But I think our mission was just to make sure that all the fabrication and electronic manufacturing related issues are solved in India.
Even today, it's a bit challenging task to import machines to India as it involves a lot of processes that could be solved from a customs standpoint. We are glad to have done that early and have that learning on what are the different challenges one has to face on importing such machines.
A thought that always bothers us is as to why we have to import machinery from somewhere else and not manufacture the same in India. The ecosystem for equipment manufacturing in India is not avoidable, and it's high time that we work on it. And that is one larger ecosystem of fabrication assembly. In general, turnkey manufacturing will also have a huge boost in the Indian economy only by building the entire ecosystem, and we at Lion Circuits are also working on some of these ecosystem development activities and we will be releasing some of these design challenges and activities in the coming quarters.
Q. How difficult was it to find people with relevant experience as this is a completely new thing over here in India? How did you train people to work on it?
There are skill sets available in India, but it's extremely minimal. Only a few people know about how to use these machines. In my initial days, I went to the factories in the UK to get hands-on the working of these machinery. We hire people and train them to use these machinery efficiently. Sometimes, if there is a problem, I don't shy away from debugging the machine myself. So, initially, we did face some challenges but we have improved a lot over time as we have learned how to hire freshers and up-skill them to use these machines. We don't hire any new experienced operators. We hire a fresher with a diploma. Some of the operators in our company are not even diploma holders but because there is a lot of automation involved, it's not challenging, once you know what to do.
Q. What is your current production capacity and what level of advanced PCB design can Lion Circuits handle?
At Lion Circuits, we are currently handling up to 12 layers of prototyping. For production, we do from 2 to 6 layers in terms of production capacity. Over time, we have built a very unique platform in India, wherein we have now partnered very closely with some of the larger factories on our distributed manufacturing model and we are scaling up now. So, you'll see a lot of announcements coming from us later this year.
We are already manufacturing more than 150 to 200 square meters per month, and we are moving upwards. Our production capacity primarily depends on how well we can integrate other partners. Currently, we are doing about 200 to 300 square meters.
Q. How does Lion Circuits ensure the quality of the PCBs manufactured? What are the tests and inspections performed on the board before it gets shipped?
Quality inspection is a very important step and the electrical inspection is done on the flying probe testers. However, we have built our own AOI (Automated Optical Inspection) machines, which are machine learning-enabled to do a lot of inner layer inspections, post assembly inspections, and post-fabrication inspections, in terms of visual inspections, which helps in accelerating the timelines.
We have a typical AOI machine but the challenging part is that it's super expensive and has to be imported. However, using some of the new techniques that machine learning has enabled, we can bring down the cost of these machines by kind of building it from scratch. It took some time, but our consistent efforts throughout the process have given us good results. Also, we are investing more in developing new algorithms to have these machines do much more inspections by kind of improving the software.
Typically when you are doing inner layer inspection, if you have to build a multi-layer board, once you are done with the bonding, even if you do the electrical inspection, it's of no use. So, if there is an open circuit, you just throw the board out. Instead what we do is before the lamination or before the bonding is done, we do inner layer inspection and typically, you would do something like open detection, shot detection, so that you are sure that there are no electrical problems in the inner layers before the bonding is done. A typical AOI machine would do open and short detection and highlight the areas where you will have to take care of or maybe if there is a possibility to correct it before the bonding is done.
Q. Fabricating high quality, low volume PCBs quickly without longer lead time has always been a challenge for Indian designers. How will Lion Circuits solve this problem?
That's exactly the segment we started with. Manufacturing revolves around three pillars - quality, price, and timelines. These are the founding blocks of manufacturing and these are completely skewed in India from a global manufacturing standpoint, which is a huge concern. That's one of the main reasons why we started Lion Circuits. So, part of the different process automation that we do is to see and evaluate how we can reduce the price overall from a process standpoint, and still keep the timeline and quality. Recently, we launched a new service called 'Make in India'. Even in terms of price, we have disrupted their mood away and aligned it to our global competitors. In terms of the timeline, we are working on it, that's the next variable that you will see some disruption in the coming time. But Lion Circuits is positioned in a way and the platform is developed in a way that we can scale and compete with this globally, especially some of the Southeast Asian countries from a cost and the time for small volume or quick turnaround point of view.
Q. Apart from PCB Fabrication, Lion Circuits also provides PCB Assembly and Component sourcing. Tell us about it.
When we started, we focused on fabrication but soon we realized that there are problems in assembling and sourcing as well. Primarily, it's a one-stop destination. As a user, you come to the platform, upload the bill of materials, upload the Gerber files, and then you get fabrication quotes instantly in real-time. We have launched a new tool that gives the user the knowledge about the best available option for sourcing this 'bill of materials' from reliable vendors. We do not currently stock any components in house. We enable component purchases through reliable distributors with worldwide warehouses like Digi key, Mouser, Element 14, and Arrow. We identify what is the best available price and stock in-stock quantity for a given bill of materials. The ability to do this faster transforms the design engineers' timeline. Time saved is money saved!
With these tools, we are working towards shortening the cycle of component sourcing. This is one dashboard where an engineer knows what is the state of fabrication, what is the status of assembly, component sourcing status, etc. To move faster in the product development cycle, you need to have more realistic timelines, know what's the total turnaround time for your electronic manufacturing, rather than kind of micromanaging stuff in terms of fabrication, assembly, and component sourcing. We are working towards making the process speedier, cheaper, and reliable in a way that the entire turnaround of turnkey manufacturing can happen very quickly.
Q. Are there any official partnership between Lion Circuits and distributors like Arrow, Digi-key, etc.?
Right now, we don't have any official partnership as such with these distributors. Primarily, anybody who has regular business with these distributors could integrate their API's and source components. So it's a pretty open engagement. However, we have carefully chosen some of the distributors and with the history of working with them in the past 3-4 years and I'm also looking forward in terms of future roadmaps. We are adding a lot more distributors to the network and we are not limiting ourselves to these four to five distributors currently. We want to add more Indian electronic component manufacturers on board and we are working on that aspect so that we can source at least most of the components locally. There is no warehouse in India currently, which is a big problem for semiconductor sourcing. However, for discrete and electromechanical components, there are a lot of good manufacturers in India and we want to onboard them going forward.
Q. When you speak about Indian manufacturers, there are not many silicon manufacturers here, but there are simple electromechanical connectors and few discrete passive component manufacturers. When do you think we will have silicon manufacturers in India?
There is a lot of debate currently going on in terms of silicon manufacturing in India. It is very much needed and we are yet not there. The only few facts that I know of are presenting BHEL and a very old process. There was however a lot of effort to set up factories in the northern northeastern part of India, but that failed. We are hoping for some major reforms in this area and the government of India has already announced a microprocessor challenge. Let's see how that goes and I think that will have some positive results from the ecosystem development point of view. To completely reimagine electronic manufacturing, India needs completely fresh thinking like how can some of the grass-root problems be solved, how FAB can be set up, etc.
Setting up fab is a completely different challenge. Having worked for Texas Instruments and working closely with some of the FABs within TI, I can say that some of the real advantages that India has in terms of setting up a fab will be if India can focus more on new processes right or upcoming processes like gallium nitride GaN, something in the MEMS area. MEMS area is also slightly outdated now, in terms of getting started in that space, but I think the GaN process is an area that we can focus on.
Also, there are a lot of custom analog processes, not the ones that you can have from the TSMC point of view, where you have 15 or 16 nanometers. Under the recent announcements of TSMC, they are way advanced than the rest of the world. But, India can carve a very niche area and enter the fab space and then kind of later expand. When we set up a fabrication plant, the obvious thing is a huge investment and stuff, but what is the value proposition that India could offer with respect to all other countries and already existing FABs. When you think about it, and with the growing ICs being designed in the GaN process, it becomes a very good use case from an investment point of view from an Indian standpoint, and that will also help in all the other value chain that is kind of vertically integrated into a fab development. So, when you kind of start implementing a fab, then there is a lot of design toolchain that ecosystem built. There is already a good amount of design toolchain in India from a software standpoint, but also a hardware standpoint, from an equipment development standpoint, from an R&D, from a process development standpoint, etc. So, there are a lot of complex processes that are involved. So, starting with the fabrication process, here in India, we lack a lot of highly complex process engineering from a chemical engineering standpoint for PCB fabrication. Having fab and seeing more money into the sector would make the entire chemical process lithography and all the other processes that are evolved to evolve.
Q. With the recent intrusion of foreign players, PCB fabrication in India has become very cost-competitive. How does Lion Circuits tackle this?
We have already launched a new plan called 'Make in India' plan where we are giving our boards at $15 for 10 units. So, a landed cost of some of these South Asian countries operating from South Asian countries and shipping to India would make the landed costs reach almost $20 to $30 for one board. So we are matching those landed prices and on the higher side, we are close to matching those landed prices. Going forward, you will see a lot of disruption from Lion Circuits in terms of timelines and on the cost side as well. These competitions are the high time we limit the price reduction and quicker turnaround to match those prices in India. That goes all the way from raw materials to kind of finish. But we are making good progress.
Q. What number of orders you received initially and how many are received currently?
We have shipped a hundred thousand plus PCBs to 10+ countries worldwide and we are growing fast with each passing month. We have big targets for the year. COVID happened and there are a lot of challenges still we are anticipating a strong ending of this year.
Q. How would you compare the market between the traditional OEM manufacturers and electronic hobbyists and manufacturers?
We at Lion Circuits want to support the hardware and maker community by giving them access to low-cost high-quality manufacturing so that innovations from India can happen. Our Make in India campaign is aligned for these services. However, some of the enterprise offerings we have for turnkey manufacturing on our platform go all the way to defense, we are an approved vendor to DRDO and we make IPC Class-III PCBs as well and we are growing that space.
Q. What are your future plans for Lion Circuits?
We have a lot of ecosystem development activities going on and the constant effort is to bring down the cost, accelerate the timeline, and improve the quality of services. We have our own internal goals to push what we are doing to the next level and hence users from across the globe should expect quicker deliveries at the lowest cost from the service standpoint. We are constantly focusing on improving the manufacturing system in India.