Waste Management in India is already a mammoth task and is going to be more complicated with the increase in urbanization and changing lifestyles. The total amount of waste generated in our country in 2016 was 62 Million Ton (only 28% of waste generated was recycled in 2016) and this number is expected to reach 435 million tons by 2050. Municipal authorities are struggling hard to keep urban cities clean and with smart city revolution around the corner, smart waste management solutions are gaining more attention than ever. 
With the aim to clear every bin before it overflows by digitizing waste management processes, Antariksh Waste Ventures came up with AirBins. Mahek Mahendra Shah, the director of Antariksh Waste Ventures is a B Tech (Mech) from IIT Madras and MBA (Energy & Design Management) Politecnico Di Milano degree holder. He is the founder of SwachhBharatApp.com. Besides, he has served as a Vice-President in the IIT Madras Alumni Association. To know more about him and his IoT-powered smart garbage bins, and the technology behind it, we asked Mahek a few questions. Scroll down to read on what he has to say about the smart AirBins and future plans of the company.
Q. What inspired you to start the 'Antariksh Waste Ventures'? What problems is the company aiming to solve?
By analysis of citizen grievances, we realized that around 70% of them were related to the garbage not being collected or cleared or related to waste management eco-system. Garbage Vulnerable Points (GVP) are on the rise across the country due to increasing urbanization and lackluster investment in waste management collection and recycling processes.
Our company, 'Antariksh Waste Ventures' aims at improving the waste collection process and clearing every bin before it overflows. Also, we aim to help to increase the waste recycling % by implementing technology in the waste eco-system supply chain.
Q. How did the company get off the ground? How did the IIT Madras incubation cell help?
We presented our rough ideas to Incubation Cell in Aug-Sep 2017 and also did ground research in Warangal, Chennai and Hyderabad Municipalities. We were incubated in Jan 2018 and received grant support after which we formed the initial team to kick off.
Q. The focus product of Antariksh is the Smart IoT Power Garbage Bin called "Airbin". Can you shed some light on its features in technical aspects?
We came up with the idea of these technology-driven bins to convert existing or new public bins to smart bins with the AirBin IoT system. The bins can be retrofit with existing 240-2000 Lts bins. We can retrofit in the bin or away from the bin. The current standard system setup runs more than 4 months on the single battery charge and we are working on improving this further. Moreover, the system is integrated with rechargeable batteries. The features that we have in the pipeline for all stakeholders of waste management eco-system are:
Sanitation Workers: Knowing fill statuses, skill development program on waste segregation, attendance monitoring system.
Citizen: Getting pickup alerts, a list of nearby bins, better understanding local sanitation teams, promotional waste segregation, disposal, and recycling information.
Sanitation Supervisors: Automated alerts on bin levels and workers statuses, equipment management, planning and disbursal to sanitation workers, etc.
City Administrators: City / Ward wide reports on the status and smart city analytics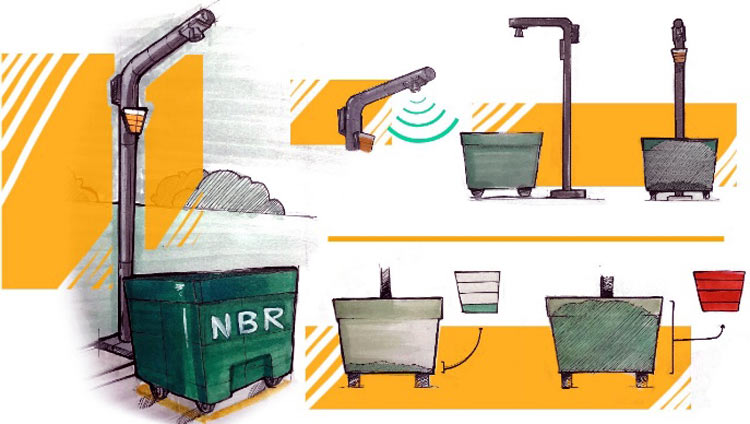 Q. The term Airbin stands for "Artificial Intelligence Radio Bins". What role does AI play here? How is AI helping with waste management?
The current bins are Storage Containers. AirBin systems provide data-assisted insights to smart city and municipal teams over a period of time. Let me explain this with the help of some examples. The system automatically generates a count of pickups (by contractors) on a daily/weekly basis for cross-checking with waste management contractors. In general, a city municipality can penalize a contractor for missing pickups. The system can suggest the best routes for contractors (based on fill levels). This will move away from the route model of going unnecessarily to empty bins to most filled bins first.
After some time, the system will be able to suggest which area and what size of bin is appropriate, pickup should happen at what time, which micro-recycling industry can be set up in this ward/area, etc. Equipment of sanitation workers is locked with expiry periods to urge sanitation supervisors and admins to replenish them (gloves and other safety equipment) periodically.
Q. Besides sending an alert to the civic bodies, what are the other features of the Smart Bin?
Artificial intelligence plays a major role in waste management as I have discussed above. Other than these features, there are 20 other types of metrics based on bin, area, locality, usage, routes, etc.
Q. How was the prototype experience with your smart bins? What technical difficulties did you face while building the prototype of the bins?
For us, the Chennai Pilot (Valmiki Nagar) was a very good experience in refining our system. Our bin systems are inherently non-intrusive. For local citizens, sanitation workers or supervisors, daily operations and user experience don't change drastically. Our team didn't face many technical problems as such. Yes, field testing in Chennai's temperature and getting quality engineering/civil work was a bigger challenge on the field.
We did have an issue of power cuts at the gateway for some time but we overcame this by moving to NB IoT (Qualcomm) from LoRa technology stack. Currently, five smart bins have been deployed in Chennai.
 Q. Why did you move from LoRa to NB IoT? Is India ready for NB-IoT?
We prototyped with LoRa Technology and decided to move to NB-IoT after a detailed analysis and spec comparisons (the benefits in scaling and deployment of NB IoT over LoRa were immense). LoRa is simply not a scalable technology right now especially for a startup. Costs of setting up LoRa gateways is very high (for a startup) - Capex challenge. LoRa gateways setup had too many parameters to manage based on different geo-locations. NB-IoT SIM cards are being offered by Vodafone already (other vendors also will be offering soon we believe). Mobile coverage penetration in India is already very good, hence NB IoT based products are readily scalable.
Q. How does your supply chain work? From where and how do you source components for your projects and prototypes?
We source components from multiple vendors. During the prototype development phase, Aggarwal Electronics (Gujarati Galli, Hyderabad) was our go-to shop. They would help us procure items in time and regularly recommended component alternatives from their sales experience! We currently source from BG Tronics (Hyderabad), Aggarwal Electronics (Hyderabad), Digikey, Wurth Electronics, Robu.in, Aliexpress, PCB power (Ahmedabad), JLC Power, etc.
We take multiple professional engineering services like Pipe bending, drilling, powder coating, painting, welding, multiple civil works for the installation of supports and place-making markers, 3D Printing, PCB fabrication, and fast soldering assembly teams. We largely work with multiple workshops in Alandur (Chennai) for the above services. It is one of the best local hubs for procuring engineering services within Chennai.
Q. How do you see the market for Waste Disposal and Recycling Management in Systems in India?
In our country, the total amount of waste generated in 2016 was 62 Million Tonnes (only 28% of waste generated was recycled in 2016) and this number is expected to reach 435 million tonnes by 2050. Every country will be moving towards 100% recycling and treatment in the future.
Q. Which all cities/areas do you plan to deploy the Airbins in? What are the ways you are adopting to reach the masses?
We are targeting adoption by Smart Cities first. We plan to deploy AirBins in 99 Smart Cities (India) + municipal corporations across the world. Almost every municipality and smart city team we have approached require better waste monitoring systems due to an increase in urbanization and real-time service pressure from social media generation.
Q. Tell us about your team and office set-up.
Our team includes Mechanical, Hardware, Software engineers along with Product and User experience designers (16 along including winter interns (7 full time)!) Prof Boby George & Prof. Palaniappam Ramu (IIT Madras) & Dr. Rajan Srikanth (Keiretsu Forum) are our mentors.
Q. What are the future plans for your startup in terms of growth and revenue? Where do you see your startup 5 years down the lane?
In August-September 2018, we proposed the idea to Incubation Cell (IIT Madras). In January 2018, we Incubated in IIT Madras Incubation Cell. We received a grant in April 2018 and in May 2018, we hired the first full-time hardware engineer. The prototype demonstration took place in 2018.
In Feb/Mar 2019 pilot bins were deployed in Valmiki Nagar. We got supported by Rialto Group (Shri Chander Swamy Ji), Chennai Resilient Cities (CRO - Shri Krishna Mohan Ji) and ATOS India Pvt. Ltd. In June/Jul 2019, we were the Top 10 QDIC 2019 cohort. In October 2019, all the pilot bins deployment was completed and we have implemented major learning in the current industrial product. The industrial product is ready now with 4 months+ battery life on a single charge. Since inception, 35+ people have been part of our startup journey.
We aim to focus more and more on Smart Cities, Municipalities and all Waste Management Eco-system stakeholders. By 6 months, we plan to sell 100 Smart Bins to any Indian smart city/municipality and showcase how our product offerings can solve a problem, upgrade the lifestyle coefficient of Indians while paving way for creating/supporting thousands of professional jobs in India. 5 years down the line, we plan to deploy 1 million Smart Bins in 100 Smart Cities of India to support the nascent recycling industry and improve India's recycling efficiency from 28% to 50%.