Published
July 31, 2019
0
Thinking about a Low Power Long Range IoT solution??! Then probably you would have heard about the wireless radio technology called LoRa. LoRa allows your devices to communicate to long distance without using much power, making it suitable for battery operated remote devices like GPS Tracker, Asset Monitoring etc. With more designers getting into the IoT bandwagon the adaption of LoRaWAN Technology seems to get increasingly popular around the globe. In a typical LoRa system, the LoRa devices (Nodes) have to communicate with a gateway provider to get connected to the internet and form an IoT system. Given that the technology is still new, gateway providers are still emerging and yet to cover more grounds.
In India, excluding the global players like 'The Things Network', we have two LoRa network providers till date, namely the Tata Communications and SenRa. At the time of this article, SenRa has already covered 44 popular Smart cities in India and are still expanding. What's more interesting is that as a developer or hobbyist you get to use their services for free and connect upto 10 LoRa devices using their network. Excited to know more about SenRa and their plans, CircuitDigest approached Mr. Kush Mishra – CTO of Senra with few questions for which he answers…
How can I connect my LoRa devices to the gateway of a network provider like SenRa?
To connect your LoRa nodes with us, the first thing you have to check is if you have our network in your area. For that, you have to get into a our SenRa website and  look into the coverage section, where you can simply enter your area PIN code and it will tell you exactly where you are in the network map. If you have our network in your area then you can get into our SenRa portal (https://portal.senraco.io/) and set-up your free account and register your devices. The documents available at (https://docs.senraco.io/) will you help you in registering and setting up your device with SenRa. Once you have registered your device you can start communicating with the network and see all the uplink and downlink information on the network portal.
The actual payload (data) that you are sending to SenRa from your LoRa nodes will be encrypted; this is because as a network operator we are not allowed to peek into your proprietary data. But the SenRa dashboard will display other parameters like signal strength, RSSI etc, it will also show your encrypted payload and to which gateway you are currently communicating with. From here you can use the unique features in our portal that allows you to route the payload to your own application portal or to Ginjer which is SenRa own IoT analytics tools.  The procedure is straightforward, so users can simply click on the drop down menu and choose their preferred protocol like HTTP, MQTT, AWS or any other platform. The documentation for all these steps is pretty detailed on our website and our client management team will also be ready to help you if you need any support in this process.
What are the things that one should consider while selecting a LoRa Network Provider?
If you are evaluating a certain network operator against another, things that you should think about is how focused they are, their technical capability specifically for LoRaWAN and what are the credentials of that network operator. Comparing SenRa, we are solely focused on LoRa network services and we do not work on any parallel network technology like telephony or telematics. We also have our own RF Test Lab to focus on the specs and evaluate our gateways for the recommended standards from Lora Alliance and the Department of Telecommunications. We are also a contributing member of the LoRa Alliance, which means we get to know the technology advancements firsthand.
A second aspect is that we as network operators also provide a service level agreement to bind the SLA with the party. So we will make sure that there is a steady uptime of the network and we hold ourselves liable to penalties even if the SLA is not met.
What if my area is not covered by SenRa yet? How can connect my nodes with gateway then?
In case your area is not yet covered by SenRa, you can reach out to us with your demand and our teams will set-up our gateway in your area. We have very strong team working on expanding our networks, so that we can address these coverage issues as fast as possible.
If you are a developer and would just like to test our services you can also use your own gateways and link it with SenRa. You can refer to our documentation where we have listed all the supported gateways and how to use them. As a developer you can select the relevant gateway link and follow the steps given. You will find instructions for most of the popular gateways on our documentation, but you can also select a third party gateway which is not on our list and use it with a sentech packet forwarder to onboard the gateway on SenRa portal. 
How much area has senRa covered in India? Do you also have plans to expand outside India?
SenRa is aggressively targeting the initial list of 100 Smart cities that was rolled out by the Indian government. At present we have covered 44 cities and are till constantly pushing into new cities as well.  We are proactively targeting to cover 100 smart cities by 2020. Since not every smart city is actively taking projects, we discuss with smart city CEOs and PMCs to figure out what kind of timeline we should adapt to address the network needs of a specific smart city. We are also targeting few countries outside India to take forward our network infrastructure through few other large companies, but that is something we can't reveal right now.
How to use LoRa across different countries? For example if I have to track few units moving from India to China, how would I do it?
Even on global scale it would be difficult for you to exactly track shipments because it depends on several factors like, volume of devices, size of opportunity etc. If it a large volume of devices the network operators from different countries would be ready to join hands. But for case to case basis, it gets difficult to do some kind of roaming agreement between network operators.
Tell about your IoT Analytics platform Ginjer and how designers could use it.
Ginger is an application enablement platform, it is not specific to a certain vertical rather it is agnostic of vertical. As a project owner you can simply mention the requirements for your devices and we can integrate your device payload on Ginjer as per your requirements to suit your IoT Dashboard style. Ginjer already has a selected statistical report generation feature like histogram adequate support etc, which are readily for allowing you to visualize data.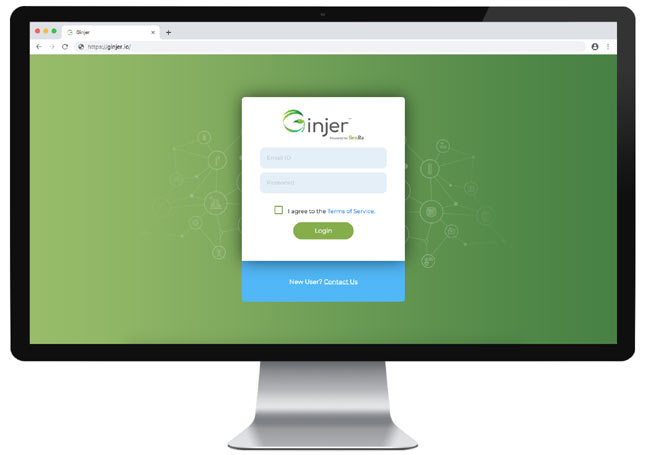 Right now it is a growing phase for Ginjer and we actually encourage companies to come to us and tell us what they need so that we can provide customized solution like in depth analytics with machine learning for example. Ginjer is also a platform independent solution, meaning it is not only limited to LoRa but can also support Sigfox, BLE and other protocols as well.
Ginjer is also considered as one of the lowest priced analytics platform in the country; you can start using Ginjer platform for a free tier and connect upto 10 devices for free. After that you will have to pay only about 35Rs per month for one additional device. We are also in plans to release the Ginjer 2.2 version, probably in the next couple of months which will allow designers to route data from SenRa portal directly into Ginjer and start visualizing data.
Tell us about the other solutions from SenRa like uPark and clean bin. How are they useful?
uPark is a powerful IoT solution that can handle two kinds of use cases, one is a managed parking solution and the other is illegal parking detection. In managed parking solution, a parking lot manager can deploy the devices and use our network services and application to regulate parking. In a illegal parking scenario, the city officials will be provided with a mobile application which can alert them if an illegal parking has occurred somewhere in the city. The app will also route them to that particular place using open map APIs and they can issue a challan to the illegal parked car. 
The clean bin solution is also similar. It comes with a fill level detection sensor that gets installed in every waste bin to indicate trash level say like 100% full or 50% full etc. With this data we can alert the corporation as to which bin needs attention through a mobile app, we also use this analytics data to get the waste bin collectors an optimized route based on the status of the waste bins in that particular locality. We can also use this data to determine where additional waste bins have to be deployed and which ones should be removed or replaced based the frequency of usage of the waste bins.
Being one of the first few companies to start LoRaWAN network services, what are the technological barriers you face in India and how do you deal with it?
We take a good pride in being one of the first early evangelists of LoRa and we encourage everyone out there to contribute to the growing ecosystem. We take part in lot of speaking engagements and have partnered with a lot of academic institutes to push the ecosystem from the academic point of view. From a technical standpoint, till now our major problem is that the LoRa ecosystem is not yet mature in India. To deal with this we have a device on boarding questionnaire that we roll out to all our device vendors to educate them on the best practices and thus making the ecosystem mature. We also have our own RF test labs where we spend a lot of time to go through complex RF propagation models and we also spend a lot of time in integrating with GIS mapping services or Google APIs to determine the best fit for us.
How do you see government support for LoRaWAN in India?
The Government is very supportive I would say. We are actively working with TEC (Technology Engineering Center) from the Department of Telecom. We are working to gather trying to define new technologies especially in the LoRaWAN space. They have been very collaborative with us in governing what kind of licensing model needs to be done and with standardizing the LPWAN ecosystem.
From tender point of new, after the elections a lot of these city officials are rolling out new tenders again and a lot of these tenders are very forward looking.  And they are including LPWAN especially LoRaWAN in their tenders. So I think the government is also contributing strongly in their part of pushing forward the next generation technology like LoRa.
What are the companies that SenRa is currently working with?
Recently we have announced some active tie-ups, we have partnered with Microchip a semiconductor manufacturing company and we are also actively working with ST Microelectronics actively trying to boost the ecosystem in India. This collaboration works when there is a specific device requirement for our clients, the semiconductor companies support our clients from technology point of view and we support them from network point of view. On the gateway side we are bringing in trusted partners like Kerlink and Multitech to support us on SenRa.