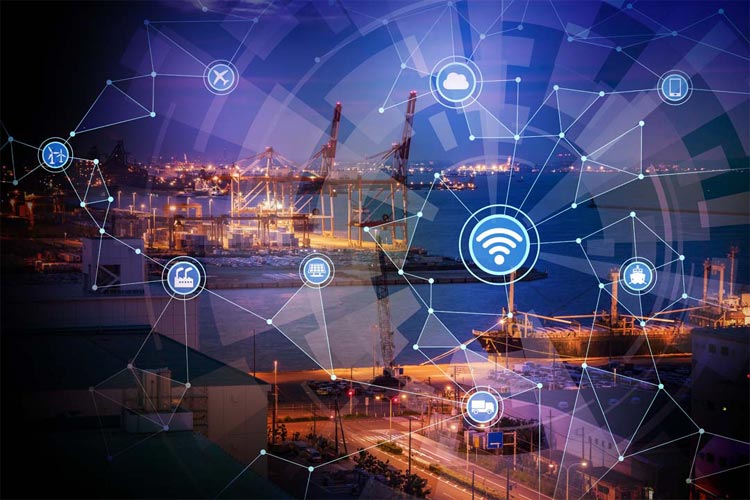 Smart meters along with automotive, router/CPE, industrial, PC and POS are the major IoT based cellular applications that helped in generating large revenue, but router/CPE, PC, and drones are the key three growing segments
For the international deployments of IoT, cellular connectivity is known to be the impeccable and trustworthy connection option. There are no requirements to craft new-fangled infrastructure nor adding of further network gateways to support deployments remotely. It implies that cell towers are simply getting connected that already existed. Another thing that can be looked upon is cellular roaming. As the cellular IoT ventures move from location to location there must be an agreement or an association between partner carriers and your cellular providers to allow seamless connectivity throughout the regions devoid of changing the SIMs. Now, the point to be noted is that as the cellular network utilizes SIM cards for authentication, it becomes very intricate to find the identity of the product. In the IoT ecosystem, if any sole device is under security risk then all the products related to it are at risk severely. In order to assure the security of the device is safe, the cellular keeps on separating every device from every other device.
Now, the reliability of the cellular device is another criterion. As cellular connections gained massive traction and popularity all over the world, the Cellular IoT protocols can grab the advantages or the benefits of the existing characteristics and benefits. In the licensed bands, the cellular works that state the reliability and performance of the communication. However, cellular also offers a huge volume of connections per tower, which are monitored and supervised separately thus offering success and guarantees on reliability and services. If you look back closely at history, a significant limitation for cellular adoption has been battery life and power usage. The cellular protocols of this generation would make it easier for cellular IoT modules to cut power costs when they are not being used and transmit a small volume of data with the slightest power usage. In this regard, both NB-IoT and LTE-M have been designed exclusively to provide top-notch operation from a power source driven by a battery. As the data throughput is not largely available, lesser intricate radio modems and easy signal modulation schemes are massively required, leading to lesser power requirements. On modern hardware, improvements in sleep/wake modes provide the benefits mentioned above.
New Role of Technology in Cellular IoT Module Market
Now, according to various telecommunication experts, the connectivity landscape in China is completely different from other parts of the planet. Now, if you look at the countries outside China, the piercing of LTE-Cat 1 is much higher, for instance, the perforation of narrowband (NB)-IoT. In China, only 12 percent of penetration is done by LTE-Cat 1, while the same offers 23 percent penetration outside China. According to an exclusive report of IoT Analytics, back in 2020, the Cellular/licensed low-power wide-area (LPWA) shipments (NB-IoT and long-term evolution-machine type communication LTE-M) offered only 10 percent of the market outside China. The country is mostly focused on improving NB-IoT and 90 percent of this shipment appeared from China itself.
Highlighting the importance of cellular IoT modules, Satyajit Sinha, Senior Analyst, IoT Analytics said in his research report, "The rise of LTE-Cat 1 started in North America a few years ago. That is when LTE-Cat 1 started to become the go-to alternative for 2G and 3G IoT applications as 2G networks were retired by network operators. The massive migration from 2G/3G to LTE-Cat 1 started in 2018. Telit, Thales, and Sierra Wireless, for example, have collectively shipped more than 40 million LTE-Cat 1 modules in the last three years in the outside-China region. As evidenced in the data, the decline in shipments of 2G/3G modules was directly proportional to the increase in shipments of LTE-Cat 1 modules outside of China."
In the past few years in China, for 2G IoT applications, NB-IoT has turned out to be the new substitute. Therefore, in China, NB-IoT has turned out to be the licensed low-power wide-area network (LPWA) technology of choice. Nonetheless, the technology LTE-M is not present in China and certain technical hindrances within NB-IoT have spearheaded the escalating demand for a new-fangled segment, which is low-cost LTE-Cat 1 bis modules that are centered on 3rd Generation Partnership Project's (3GPP) Release 13. The technology is optimized for lesser power applications and a sole antenna. "This is in contrast to the LTE-Cat 1 standard adopted in North America, which is defined by 3GPP's Release 8 and is supported by two receive (Rx) antennas. 3GPP's Release 8 LTE-Cat 1 is based on Intel and Qualcomm chipsets, whereas 3GPP's Release 13 LTE-Cat 1 bis is driven by UNISOC 8910DM. The Release 8 LTE-Cat 1 modules cost, on average, $10 more than the Release 13 LTE-Cat 1 modules," added Sinha in his research.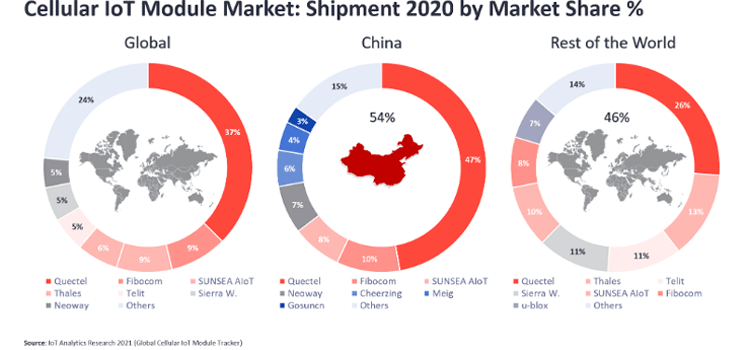 Growth of Global Cellular IoT Module
A new research report of Counterpoint stated that in the final quarter of 2020, the growth in revenue of international cellular IoT modules escalated to 58 percent YoY. China is claimed to be the fastest adopting this technology and managed to grab more than 40 percent of the profit. India is said to be the fastest-growing cellular IoT module market with a market share of 324 percent YoY, which is then followed by 4G Cat 1 105 percent. Router/CPE, PC, and industrial were the leading applications for 5G. Highlighting the importance, Senior Analyst of Counterpoint Soumen Mandal opined that MeiG, Quectel, and Telit managed to grab the top three stands in the worldwide cellular IoT module market. In Q4 2021, these firms offered around 40 percent of the revenue, whereas the revenues and the shipments of this technology reached 57 percent and 59 percent YoY.
MeiG is one of the leading Chinese firms in this domain that is looking for constant enhancement and development and has now finally reached the top three standings on the cellular IoT module cluster both in terms of revenue and shipment. The company is carrying out more development and research on AIoT and smart module-based higher-end applications such as router/CPE, intelligent cockpit, video recordings, industrial PDAs, drones, and AR/VR. Now, in 2021, the company entered into the business of lower-end applications. This product amalgamation of low-priced and flagship modules assisted the company to augment revenue by more than 100 percent in Q4 2021.
Quectel's recently launched ODM brand, Ikotek, which will throw tough competition in the US. Again in Q4, 2021, the revenue in the same segment escalated to 100 percent YoY. Experts are now speculating that this firm would make its entry into the Latin and North American markets. According to the said requirement of a venture, the products can be customized and designed accordingly. On the other hand, Telit made a strong comeback after relatively weaker performance in recent history. For quite a few years, Telit is constantly increasing its solutions and services, which is helping its growth, whereas, Telit NExT is offering seamless connectivity schemes throughout the 190 countries to grab the benefits of growing business models and wiping out key bottlenecks for several IoT vendors, mostly device based. In Q42021, the company largely focussed on Latin America to assist customers from migrating to 4G cat modules. The strategy helped the company to become the major supplier of modules in the country and it ultimately maintained its key position in the North American market.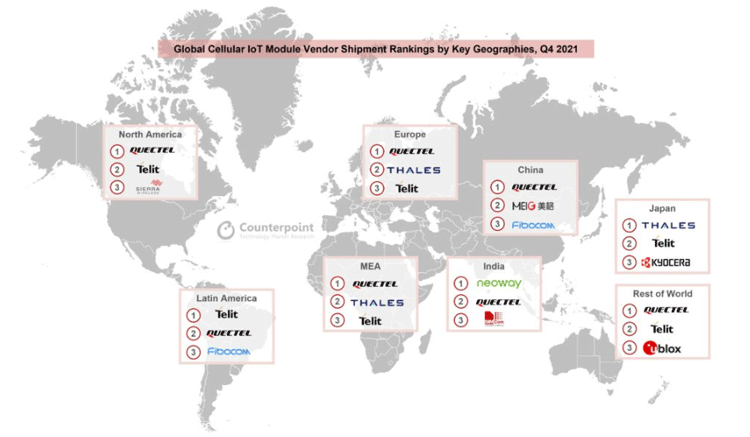 According to a report by Counterpoint Research, the other important firms in this segment are Sierra Wireless, Rolling Wireless, Fibocom, Thales, and Sunsea and among all the companies, LG and Rolling Wireless mostly catering to the automotive segment. Thales is centered on industrial applications, smart meters, and healthcare mostly in Japan, North America, and Europe. Fibocom is said to be working exceptionally well in 4G Cat 1 bis technology, but the company failed to include itself in the top five standings in module vendors due to its inferior performance of the NB-IoT module. Sunsea on the other worked quite well in the worldwide IoT module market, but still, its shares went down. Sierra Wireless's and Rolling Wireless's profits soared to 87 percent and 105 percent respectively. After rolling out from Sierra's automotive segment last year, Rolling Wireless swiftly included itself in the top ten module vendors list.
Senior Research Associate Neil Shah said, "Back in Q4 2020, the global module vendors did not perform well, but in the same quarter of 2021, the same companies performed exceptionally well. In terms of profit in China, Sunsea, Quectel, and MeiG turned out to be the top IoT module firms. But, other than China, Thales, Quectel, and Telit were the top three players in the market. Quectel is ruling the sector in Japan, Latin America, and India. But, these same regions have a very diminutive share of cellular IoT modules, and hence, they do not have much impact. Japan has a preference for LTE-M, which is against the business model of Quectel."