Published
December 11, 2021
0
If you've never flown a drone before and want to try it out but are worried about damaging it beyond repair, then consider using Drone Simulator Software to practice your drone flight skills in a simulated environment. As some of the best drones in the market may cost anywhere from a few hundred dollars to over a thousand dollars, so the last thing you want to do is spend that much money on a drone only to crash it because you didn't spend enough time practicing with the controls. Drone Flight Simulator isn't quite the same as flying a real drone, but it will give you enough exposure to fly one without damaging it or injuring anyone. In this Drone Simulator Software guide, we'll go through the basics of how a simulator can help you learn to fly drones, and then we'll reveal our choices for the finest drone flight simulators available in the market. Apart from this, you can also check our Build your own Drone from scratch where we have built a drone using a KK2.1.5 flight controller.
Introduction to Drone Flight Simulator
Let's first understand what a Drone Flight Simulator is and how it works. A drone flight simulator is a software tool that allows you to imitate the experience of flying a drone by connecting a genuine drone controller to a compatible device. Drone flight simulators can be used with either a PC or a Mac. Read the specifications carefully before purchasing a simulator to ensure that it will work with your device. You can learn different forms of flying in different situations by using simulator software. Drone simulators are divided into two types: those for learning how to fly commercial drones and those for learning how to fly FPV drones for drone racing. Now, we are going to discuss some famous drone flight simulators.
DJI Flight Simulator
DJI flight controller is developed by one of the famous drone manufacturing company DJI. Normally this flight simulator is used for DJI drones or the drones which have a DJI flight controller. This simulator has multiple points of view, three flight modes, and a "comprehensive physics engine" to simulate real-life flying. DJI drone flight simulator includes a large number of flight scenarios that allow pilots to practice flying in a variety of business circumstances, such as power-line inspections. The DJI simulator also allows you to practice flying a variety of DJI drone models.

Features of DJI Flight Simulator:
DJI flight controllers provide a customizable environment but it is available for Windows only.
DJI flight simulator is best suited for all series of DJI drones for example- Mavic Series, Spark Series, Phantom Series, Inspire Series, and Matrices 200 Series.
DJI flight simulator comes in various price ranges (approx. 1350 dollars) for various versions. It also comes with a free version but that version has limited functions. Total 3 versions available for DJI flight simulator. 1- Free trial, 2- Enterprise version, and Energy version.
DJI flight simulator provides very High-quality visuals and multiple points of view (POVs) and it also provides a realistic flying experience like wind effects, ground effects, and simulated crashes.
DJI flight simulator supports various controllers for example - Mavic Air, DJI Smart Controller, Phantom 4, Phantom 4 Advanced, Phantom 4 Pro, Phantom 4 Pro V2.0, Matrice 100, Matrice 600, Matrice 600 Pro, Inspire 1 Series, and Lightbridge 2.
DJI Flight Simulator Pros:
DJI makes one of the highest quality simulators. The environment's appearance and feel, the mechanics of drone flights, and the huge range of flight scenarios all contribute to an extremely comprehensive simulator. The DJI drone simulator is a fantastic application for professional or enterprise pilots who want to acquire some practice before flying their expensive equipment in a real-world situation. It's also a terrific method to brush up on specialized skills like power-line inspections or search and rescue missions. The simulator is also a wonderful way to get a sense of how an enterprise-level drone feels and performs before you buy one. While it isn't the same as flying the real thing, it can give you a fair idea of how a certain drone model will perform in different situations. The ability to test a wide range of drone types is incentive enough to use this simulator.
DJI Flight Simulator Cons:
DJI drones are the only ones that can be used with this simulator. If you don't have a DJI drone and have no plans to acquire one, you can still benefit from the simulator exercise with a DJI drone model. The DJI drone simulator isn't equipped with any FPV flight modes and is intended to help commercial drone pilots practice. This drone simulator will not assist you in learning to fly FPV, even if it is the DJI FPV drone. Given that this simulator is designed for enterprise use, it should come as no surprise that it costs significantly more than most other drone flight instruction software products. This simulator is a significant investment at $1,350.
Zephyr Drone Simulator
Zephyr is developed by Little Arms Studios. The Zephyr drone simulator was designed specifically for drone pilot education and training. It has built-in classroom management and student progress tracking features, allowing teachers to keep track of their student's progress. An instructor can use these tools to see how often a student crashes his or her drone and to track student progress in order to assess if they have improved over time or if they need further training. This simulator also includes an ever-growing library of training modules and drone platforms, all of which have been meticulously designed with exact flight characteristics.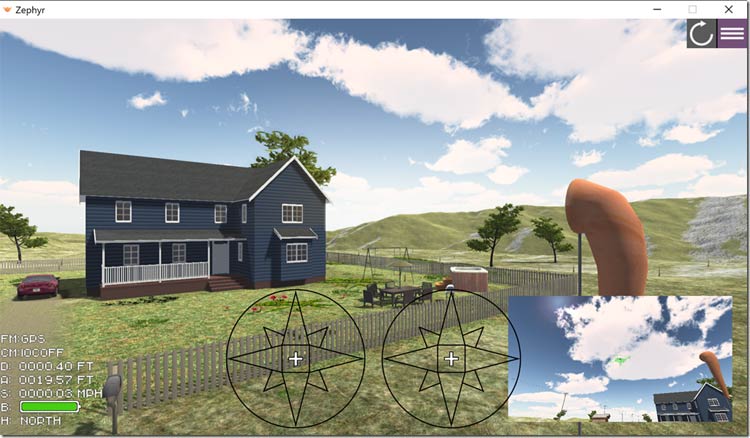 Features of Zephyr Drone Simulator:
Zephyr drone simulators are available for both Windows and Mac.
Zephyr drone simulators provide a Customizable Environment for example you can take the fly experiences of many drones like - DJI Phantom 3, DJI Inspire 1, 3DR Solo, Syma X5C, Autel X-Star, Parrot Bebop 2, DJI Mavic Pro.
Zephyr flight simulator price range varies from $99 to $139. A 30-day free trial version is also available for Zephyr flight simulator. You can download the 30-day free trial version using this link.
Zephyr drone simulator supports many controllers. You can see the list of controllers that we can use in this flight simulator.

Zephyr flight simulator comes with a Learning Management System, which makes it ideal for educators teaching students how to fly drones in a classroom environment.
Zephyr flight simulator provides a very good flying experience along with accurate physics which is carefully created to reflect the real experience of flying.
Both FPV (first-person view) and VLOS (Visual line of sight) flight modes are available in this flight simulator. 
Zephyr Drone Simulator Pros:
The Zephyr drone simulator is designed specifically for educational purposes and is unique as it includes instructor control and feedback. An instructor will be given the flight statistics of the students enrolled in a training course for evaluation and feedback. However, it is not limited to classroom use; professionals can use the training programme independently. The training emphasis is further extended to safety training, with FAA safety requirements embedded into the program to assist pilots in learning to fly within FAA guidelines. In terms of professional drone training simulators, Zephyr is also relatively affordable, with the basic bundle starting at $75. Of course, you may try out the simulator for free before determining if it's appropriate for you.
Zephyr Drone Simulator Cons:
The pricing structure of Zephyr (for individual professional buy) may be a little perplexing for people who just want everything in one box. A variety of potential add-ons are available for purchase separately, but it might be difficult to know where to begin. Using the free trial to discover the bundle you require may be beneficial. Zephyr is essentially a business drone training simulator, so it's a bit costly if you're just looking for a fun way to fly a drone remotely. Also, if you're interested in FPV racing, Zephyr does not provide that type of flight training.
DroneSimPro Drone flight Simulator
It is one of the cheapest drone flight simulators. The DroneSimPro simulator's custom-built flight engine is a highlight, as it allows the simulator to simulate real-world drone flight mechanics. DroneSimPro also includes customizable surroundings as well as the option to choose between two drone models: the Phantom 2 or the Phantom 3. The price of this flight simulator is approximate 10 dollars. This flight controller supports both Windows and Mac OS.
Features of DroneSimPro Flight Simulator:
Accurate flight model of Phantom 2 Vision+
Drone and pilot views
Realistic scenarios
Warnings for loss of VLOS and altitude restrictions
Realistic lighting conditions
Windows and Mac compatible
High-end 3D graphics engine
Real geological features and terrain
DroneSimPro Flight Simulator Pros:
The droneSimPro Drone Flight Simulator provides a fairly realistic flight experience. This improves the accuracy of the controllers' feel and response. This is significant as a training flight simulator for assisting pilots in their transition to real-world drone flight and is available at $29.99. Many of the higher-end training simulators are much more expensive, with little improvement in the actual real-world feel of the flight experience.
DroneSimPro Flight Simulator Cons:
The Phantom 2 and Phantom 3 are the only drones that are currently recreated in the simulator. While this is fantastic if one of these is the drone you're flying, it doesn't compare to flying your own drone model in a simulator. More drone variants are expected to be released in the near future.
The limited number of controllers supported is also a disadvantage. While game controllers are fantastic, they don't provide the same level of immersion as learning to fly with a genuine flight controller. A longer list of controllers that are compatible is expected to be released soon.
LIFTOFF FPV Drone Simulator
This simulation software is developed by LuGus Studios, ImmersionRC, and FatShark. Liftoff is the definitive gateway to the quadcopter racing scene, a platform for both experienced pilots and newcomers to the sport. Liftoff was created by LuGus Studios, a Belgian game developer, in collaboration with ImmersionRC and FatShark. FPV Drone Racing has grown tremendously in 2015, with both hardware and pilot skills reaching new heights. Liftoff was created to bring the pleasures of racing to the digital realm and is compatible with both PCs and Macs.
Features of LIFTOFF FPV Drone Simulator:
Game style flying simulator with good graphics, a variety of quad choices, and customizable maps.
Competitive events and leaderboards in the game.
Drone flight experience in the form of FPV for skilled or inexperienced pilots.
With Steam Workshop support, you can download custom quads and maps created by other users.
There are 16 different racetrack flying environments to choose from.
For a more realistic flight experience, FPV goggles and radio controls are supported.
Available for Xbox One and Playstation 4, as well as Steam.
LIFTOFF FPV Drone Simulator Pros:
Liftoff is an FPV simulator/game that is ideal for getting Tremendous experience with FPV flight. Good visuals and the option to customize your quad, as well as compatibility with FPV goggles and radio transmitters, make it even more lifelike. It's still a fantastic practice experience, even if the flight controls aren't precisely how they feel in real life.
For those just getting started with FPV, the simulator's inexpensive price of $19.99 is an excellent way to save the cost of repairs on a damaged quad. It's simple enough for a total beginner to get a feel for FPV, yet realistic enough for seasoned pilots to receive a rewarding practice session.
LIFTOFF FPV Drone Simulator Cons:
This feels a lot more like a game than a true flight simulation. Regardless, it provides a genuine FPV experience as well as the opportunity to practice your flight abilities in a way that is applicable in the real world. The physics aren't great, and the quad feels a little floaty, which is a common problem with game-style simulators. Liftoff is restricted to FPV and drone racing. This isn't the simulator for you if you want to practice other types of flight abilities or even aerial photography.
Hotprops FPV Drone Flight Simulator
Hotprops FPV drone simulator is developed by madkey studio. The HotProps drone simulator creates a realistic environment for learning how to fly an FPV racing drone using real physics data. Although the Hotprops FPV racing simulator is not as robust as DRL's, it has received favorable feedback from users and maybe a less scary starting place for people who are new to using a drone simulator for FPV drone racing.
Features of Hotprops FPV Drone Flight Simulator 
It can be used for windows, Mac, and Android applications. It does not provide any Customizable Environment.
Hotprops FPV drone flight simulator is a completely free simulator.
There are only two modes are available in this flight simulator - Acro mode and Self-level mode.
It supports any basic controller to control your drone in simulation. It also supports All Bluetooth-compatible GamePads controllers and Play Station 3 and Play Station 4 controllers.
Hotprops Drone Simulator Pros 
It is completely free and without any cost, you can learn drone flying experience
Good visuals and the option to customize
Ability to set up your drone while flying
 Hotprops Drone Simulator Cons 
It doesn't provide any extra features or situations where we can test flying skills
Has limited customization options
So these are top Drone Flight Simulator software that you can use before you try your hands on a real drone. Hope you found this guide helpful. Let us know what's your views about these simulators in the comments section.