Tesla, a leading Electric Vehicle manufacturer recently announced its Q2 2020 financial results by delivering a profit despite the current global pandemic situation, making it one of the most valuable company ahead of Toyota, Volkswagen, General Motors, etc. Citing this, CEO of Volkswagen, Herbert Diess quoted on LinkedIn that "In 5 to 10 years, the most valuable company in the world will be an automobile manufacturer". With all this, we can boldly call that the future of electric vehicles is bright and it is actually not that far.
According to the latest Deloitte report - Electric Vehicles: Setting a course for 2030, it is anticipated that the total number of electric cars sold will grow from 2.5 million in 2020 to 11.2 million in 2025 and the number will eventually reach 31.1 million by 2030. Talking about China, despite the fact the EV sales figures were affected by the pandemic, the government is not taking steps back and investments are being made in China's charging infrastructure and the manufacturers are being encouraged to produce and market EVs. Every country across the globe is eagerly enacting subsidy programs to support the installation of EV charging infrastructure, and regulatory initiatives are being taken to support electric vehicle manufacturers in making a 'greener world' a reality.
Whilst the automobile industry around the globe is working hard towards economic recovery and taking steps towards increasing EV sales, there are certain aspects to deal with for better and faster adoption of EV, setting up an Electric car charging station being one of them. Let's understand why it is challenging to set up an EV charging infrastructure and what steps can be taken to address them. 
1. High Cost of Setting up the EV Charging Infrastructure
The cost of setting up an EV charging station is quite high and varies according to the type of chargers being installed. To set up the EV charging infrastructure, minimum infra requirements need to be fulfilled, and finding the right vendor and the right location is important. The cost of setting up the EV charging infrastructure depends on the cost of land, cables, and other auxiliaries. Additionally, there is a variable cost of electricity and power draw for fast charging.
With the high cost of setting the EV charging station, the only way to make fast charging stations viable is to increase its utilization. Firstly, the charging infrastructure should be set at an easy-to-locate point and DC charging which is advantageous over AC charging technology should be installed. The government also needs to intervene to help those who need to invest and profit from setting up the charging infrastructure.
2. Compliance with Multiple Charging Protocols
There are EV charging protocols such as CHAdeMO, CCS (Combined Charging System), and Bharat EV specifications that need to be followed. EV charging solutions should be compatible with all types of electric charging points. Any incompatibility may result in voltage, current, and frequency mismatch. This can also increase the cost and complexity. Here we could also re-collect on our interview with Adity Raj, Technical director of EVI Technologies. When asked about the challenges he faced when developing his charges, his answer was also about the un-standardized charging protocols.
"To brief on the challenges we faced in developing our charger:
There were no Indian standards available for charger architecture and power ratings. In Dec'2017, the first draft was rolled by ARAI as AIS138 but still no fixed standard protocols or design requirements
There is no standard charging coupler used by EV on Indian roads making it difficult to design a charger coupling socket
Component procurement and technical support was sluggish increasing product development time and cost"
You can also check out the interview linked above to know more. The image below shows the EV charger developed by EVI technologies.
3. Safety Against Voltage Fluctuations
Setting up the EV charging stations need specialized technical competency. Risks like voltage fluctuations, ground fault, and over current can be risky. In case there is a sudden spike in the voltage; it may damage the expensive components. Also, care must be taken to install noise filtering components. Other than this, an ASIL D level safety mechanism should be implemented. For additional safety, EMC/EMI tests need to be performed. Sensors like proximity sensors and control pilot sensors need to be integrated to keep a check on voltage fluctuations.
4. Hardware and Software Related Challenges
There are various hardware and software-related challenges too in setting up an EV charging infrastructure that needs to be addressed. When the conditions stipulated in the protocol are met, the hardware components like proximity sensors and control pilot manage the connection charging the EV. However, designing such hardware components for various protocols with different conditions is quite challenging. Various issues like heat dissipation, insulation, grounding, voltage measurement, and power issues need to be fixed.
As far as software issues are concerned, it is mandatory that the charging should start only when certain criteria like the connection to ground, current filtering, etc. are met. The challenge lies in programming the software to detect the protocol that the EV supports and change the charging modes accordingly.
Let's hear from people who have done it already!
CHARGE+ZONE is a tech-driven EV Charging infrastructure company specializing in B2B and B2C charging services on both dedicated and opportunity-based charging using the smart-grid network to increase the use of renewable energy. The company provides hassle-free and reliable Electric charging Stations for all types of Electrical Vehicles (EVs) in India for e-Rickshaws, cars, buses, and even trucks as required.
We got the opportunity to talk to Mr. Ravindra Mohan, the Director (Strategy & Business) at CHARGE+ZONE on the topic and he enlightened us with additional information on the same. Upon being asked about the various challenges faced in setting up the EV infrastructure in India, he said:
"India is the 4th largest automobile market and 2nd largest 2W market with ~20 mn units. There is a massive dependency on oil imports, with a USD 112 bn oil import bill in FY19. Pollution in many Indian cities has reached alarming levels. All these factors are put together to make a strong case for EV adoption in India. Pricing and infrastructure, though, continue to remain a challenge.
A good mix of the various charging infrastructure models help in extending the range of vehicles per charge and increased charging access to EV drivers. Mass EV adoption and public charging infrastructure is a bit of a chicken and egg story. The low adoption of privately owned EVs drastically impacts the economic viability of any public charging infrastructure project. Economic growth can be stimulated by the development of an EV production supply chain as well as by deployment of the charging infrastructure and the development of business to operate it.
Manufacturing EV Chargers to talk about is a capital intensive business. In India, the leading brands are those who had been in making Rectifiers & Inverters for Telecom Towers, Solar systems and thus were able to utilize their infrastructure. There are certain challenges in setting up the EV charging infrastructure which are:
Uncertainty: Which technology to choose for communication with EV Batteries (BMS) is one of the major concerns. This problem seems to have been solved initially by GOI formulating Standards. Bharat DC-001 (GB/T) for DC charging and AC-001 for AC charging standards. But, slowly Indian e-4W OEMs are drifting towards CCS2.
Capacity: Another concern is the capacity to build which is still a grey area. 
Supply chain: There is no established supply chain. Many of the parts especially connectors, cables, which are critical to manufacturing for established players, need to be sourced from China or Europe. As volumes are not known, it becomes a challenge.
The tropicalization of imported charging guns (connectors): This is also a challenging job. In the case of high power guns carrying 200 A or more, the Indian dust, pollution, and high ambient are giving issues as till now, in Europe and China, such environmental conditions have not been faced.
As far as setting-up EV Charging Station Infrastructure for Public Charging is concerned. Other challenges that have to be mitigated are-
Location: As still private ownership of EVs is not properly documented, it becomes difficult to find hot spots and categories of facilities that will have high footfalls.
Real Estate: As EVs need to be parked for a long duration for charging, the cost of blocking such spaces in absence of many private EVs adds to fixed cost making business unviable.
Grid Power Stability: GOI has issued Public Charging Station guidelines. For the present 2-4, DC fast charging points to cater to 21 KW to 44.5 KW Battery packs of the present EVs may not be a problem from a grid stability point of view. But as the density of vehicles grows and hubs for their viability need to have 10 or more DC fast charging points, then expansion at the same location can be a challenge.
Power Charger: Principally there are 2 types of chargers - Fast chargers and slow chargers. In India, Fast Chargers are DC type from 15 KW to 240 KW with Gun connectors of GB/T and CCS 2. These can be generally used for Public Charging stations. But as privately owned EVs are still not many, hence it is a challenge to decide volumes. Slow Chargers on the other hand are AC type from 3.3 KW to 22 KW having industrial connectors to Type 2 connectors. These are generally utilized for home charging and office charging, where vehicles are parked for substantial periods (exceeding 6 hours). 
The charging speed of the battery pack of an electric vehicle (2W/ 3W/ 4W) is dependent on the power of the charger and safe limits placed by the battery design to avoid any damage. So far India has not formally adopted any specific charging standard and EV OEMs are free to choose. Till now GB/T & CCS 2 chargers are adopted for off-board charging for 4W. The present momentum indicates CCS 2 to be a dominant player in the future.
Earlier vehicles like eVerito (Mahindra), Tigor (TATA) had GB/T Gun connectors but now CCS Gun Connectors are coming with new models of EVs, following in the footsteps of Europe. Hence, this uncertainty will slowly vanish as the EV population grows.
Technology: The technology that will help the Charging Stations to integrate with renewable power and open-access power is still in the nascent stage in India. Hence for these Charging Station Operators to give a competitive price is a challenge.
Power Tariff: Many of the State Power Regulators have approved concessional rates for EV meters, but how long it will continue not much clarity is there."
To get a clear idea of why is setting up of EV charging infrastructure is challenging, we got connected with Mr. Anurang Dorle who is the Co-founder and Director of the company named EVC Finder. His company promises to offer EV owners the convenience of locating charging stations on a map, pre-book their charging slots, Smart recommendation system, and paying charges online with their EVC Finder application. Besides, their application provides the charging station owner with the complete solution of time slot booking, billing, and complete management of the charging station.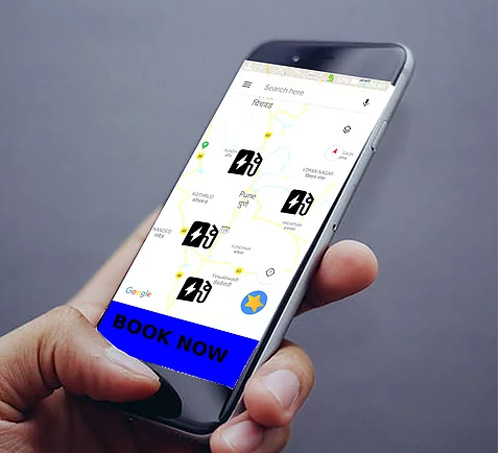 He shared with us valuable information on what are the various challenges in setting up the EV charging infrastructure.
"EV industry is quite emerging in India. Talking about the four-wheeler segment, we have finger-count EV models on road because of the limited number of electric vehicles, there are various challenges faced in setting up the EV charging infrastructure.
Charger type, charger compatibility, and investment cost are some of the key challenges in setting up the EV charging infrastructure. Talking about the commercial chargers, there are DC chargers, the cost of which starts from 2.5 lakh Rupees. These are the high power chargers, the cost is high but the charging time is low. If anybody wants to invest in low-cost chargers, there are AC chargers available as an alternative but they are slow chargers and are not suitable to be used at petrol pumps on the highways because they take a minimum of 3-4 hours for charging. During the travel, the EV vehicle owner won't be able to stop for such long hours. Therefore, this technology is not compatible for EV car owners.
For people who are willing to install chargers on highways, commercial complexes, malls, etc., the cost of installation is quite high and there is less number of vehicles on the road which means the utilization of the charger is limited, which is why people hesitate in investing. Another challenge is that in the case of DC chargers, there are some standard connector guns and there is no single universal charger gun. Firstly, there is a GB/T-based connector gun that is compatible with Tata Tigor and Mahindra E-Verito vehicles. New vehicles like Tata Nexon, Hyundai Kona, and MG ZS EV, etc. are compatible with another gun called the CCS2 gun. In India, we don't have any vehicle which is compatible with CHAdeMO yet. This is one of the challenges because even though, the number of EV vehicles is growing, the owner of the EV charging station is not sure as to which gun to go with.
Low range electric vehicles like Tata Tigor and Mahindra E-Verito vehicles are mostly used in fleet and cab services. But there are certain high or mid-range vehicles as well. For example, Tata Nexon starts from 14 lakh rupees. Such vehicles are used for personal purposes. Of course, some companies are using such vehicles for fleet services as well but that number is less. Only if the charging station owner gets guaranteed business from various stakeholders then only he will be ready to install charger or if he gets investment from other investors or the charging station manufacturer is ready to invest."
Having discussed the challenges in detail with the experts in the field, it can be said that lack of adequate charging infrastructure, setting up the fuel availability network for EV owners, the long time that charging an EV takes than fueling up the internal combustion engine-based vehicle are the major stumbling blocks for the success of the EV scheme. Also, the average on-road price of electric vehicles in India is not attractive enough for consumers. EV startups and major automobile manufacturers are caught between reducing EV costs and investing to boost the infrastructure. Getting a license to set up the EV charging infrastructure is yet another challenging task
However, along with the problems, we have solutions too. The state and central governments have been making efforts to encourage the country's adoption of electric vehicles through new policies and structures for the electrical vehicle market. The government of India is planning to rapidly expand the number of charging stations across the country. There are plans to install over 69000 fuel stations with each petrol pump getting a minimum of one EV charger and new EV charging stations too in the pipeline.
The Bureau of Indian Standard and Department of Science are working towards standardization of setting EV charging infrastructure and cut down the cost involved. Also, a lot of discussions are taking place around the world for the adoption of Japanese CHAdeMO, European Combined Charging System (CCS), and the Indian Bharat Standard.
With such promising steps being taken in increasing the number of charging stations in the country, we definitely can expect to see more and more Electric Vehicles on the roads in the coming years.